Program: WHA link posting scam
Owner: Angela Bussio- aliases include Robin Moore, Kelly Simmons, Bobbie and many others.
Website: wahedu.com
Recommended? No
This review of Angela Bussio's work at home program will give you my expert opinion about the program.This way, you will be able to determine for yourself whether to join the program or not.So without any further ado, let's begin.

 

 
The check above shows how much a certain Mary Stevens supposedly made from the WHA program. If you look close, you will see that it say Amazon services at the top left corner.
This is very convenient as many people trust Amazon but it does not mean this check is affiliated with them in anyway; it is just a tool used to convince you to join the program.
Many people go online looking for a way to make a living from home. Many soon realize that finding a legitimate work from home program is like finding a needle in a haystack.
This is so because there are more scams online than there are legitimate programs. However, if you take a close look at these shady programs, you begin to see a pattern that will help you identify many others in the future without trouble.
The truth is, most of  these scams have a basic design that does not change much. For example, Angela Bussio's WHA program is exactly the same with the WAH and WAHP programs which are both well known scams.
The owners of these programs try to sell it as different programs even though they all link to the exact same page. All these programs probably have the same owner or owners and they are all link posting scams.
It is sad how these scammers target people at their weakest moment, when they are desperate to make money.
If you take the time to investigate like you are doing right now, you will soon find out exactly to  what they are, Scams and fast money schemes.
If you will like to learn how to make money online from alegitimate company that lets you join for free, click here.
What is the WHA program all about?
Since you are here, you must already have some ideas about what this program is. Let me give you more information.
I found the WHA program when I was trying to log into the wealthy affiliate university website. Wealthy affiliate is a program I learn the various ways to make money online from. Almost everything I have learned about online marketing, I have them to thank for.
I visit this website on a regular basis to learn more and on this faithful day when I was trying to log in, I saw this ad on google, advertising a work at home program where you could make about $500 a day.
I clicked on the link and it took me to a page where I learned about a single mom who makes a living online with her computer without selling anything. It didn't sound strange that people make money online except the no selling part.
I remember coming across this exact page before; the story on it was exactly the same but the name of the author, the single mom, the program and the owner were different then.
This observation raised immediate red flags because it was too much of a coincidence. They even made a miserable attempt to change the name of the scam from the WAH program to WHA program.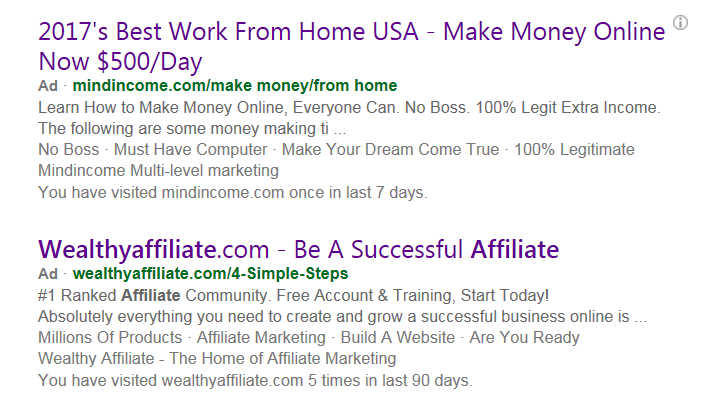 Even the check showing how much a certain Mary Stevens made was exactly the same with a couple others I had stumbled upon in the past.
This same Mary Stevens was supposedly making this check from the WAH and WAHP program previously. It really doesn't matter since all three programs are the same.
Seeing how my curiosity is really boundless, I clicked on the suggested WHA program link and was taken to the WAH program website just as I had suspected.
I had also been on the WAH website several times and had even written a review about this program.
Below are some things l noticed about this program.
This is simply the oldest kind of online scam in the books; Link posting. Link posting is the practice of spamming legitimate sites with scam links in the hopes that people will click on it and be taken to these scam sites.
For this to work, an outrageous amount of links need to be posted. To achieve this, they employ unsuspecting people to do their dirty work. They make you pay to join their program then they give you these dirty links to post and tell you it will make you rich overnight.
By the time you realize you've been scammed, you will have posted a good amount of links for them. You won't get a refund as promised and the links you've posted will still be working for them even after you leave the program. Except of course you go back and delete them but very few people do that.
Seeing how many people go online looking for work at home jobs when they are desperate, they fall for this and loose even more money.
This scammer or scammers are not creative at all. Don't get me wrong; I am not on their side. I am just saying if you pay close attention, you will figure this out and hopefully other scams too because they repeat the same technique over and over. You just have to look.
People like me who have spent countless hours online searching for work from home jobs know this scam the minute we see it because they don't change. But it is not so easy for the newcomer who has no reference point.
That is why I try to write these reviews; hoping that it might keep someone from getting into trouble. Anyway, as I was saying, WAH program = WHA program = scam.
Red Flags about the WHA program
The first thing to note about Angela Bussio's WHA program and any other similar programs is, how they put in a lot of effort to make you feel like they have been featured on major TV networks like CNN, NBC, ABC and the likes, by displaying their logos boldly.
They know when you see this, you will think "if CNN approves this then it must be safe". You couldn't be further from the truth. Just ask yourself this question " how many times have you gone to a legit site and noticed that they were more interested in displaying the logo of others than theirs?"
Take big examples like Walmart and Amazon; if you go to their website, you won't have any doubts it's theirs because their logo is supreme not another person's.
The second red flag occurs when you try to leave the page. You get a pop up begging you to stay three or four times. You are told how you will get a discount if you stay plus they have found so and so positions in your area.
They will remind you how this is a once in a lifetime opportunity and you need to hurry and commit to the program because positions are limited. If you ask me, this is all bull poop!. Come to that website tomorrow and the story will be exactly the same. Positions never run out because they won't stop trying to make money.
The very idea that you can make thousands of dollars just in a matter of days is a red flag on its own. If you won the lottery or came to some inheritance yes but you will not make thousands of dollars in days posting links.
There are people online making thousands of dollars from online marketing but these people are experienced entrepreneurs who have put in so many hours and days to achieve this. It takes a lot of hard work and patience.
There are other red flags but the three I mention above are the prominent ones.
What are people saying?
It turns out the name Angela Bussio is not an alias as I had previously thought. This is someone with a thriving off line business who was approached by some people a while back. They asked her to be the face of a program she thought was legit. She later found out that this program had questionable practices and has been trying to withdraw her name from the business since then.  Below is a comment she left in a Rippoff report.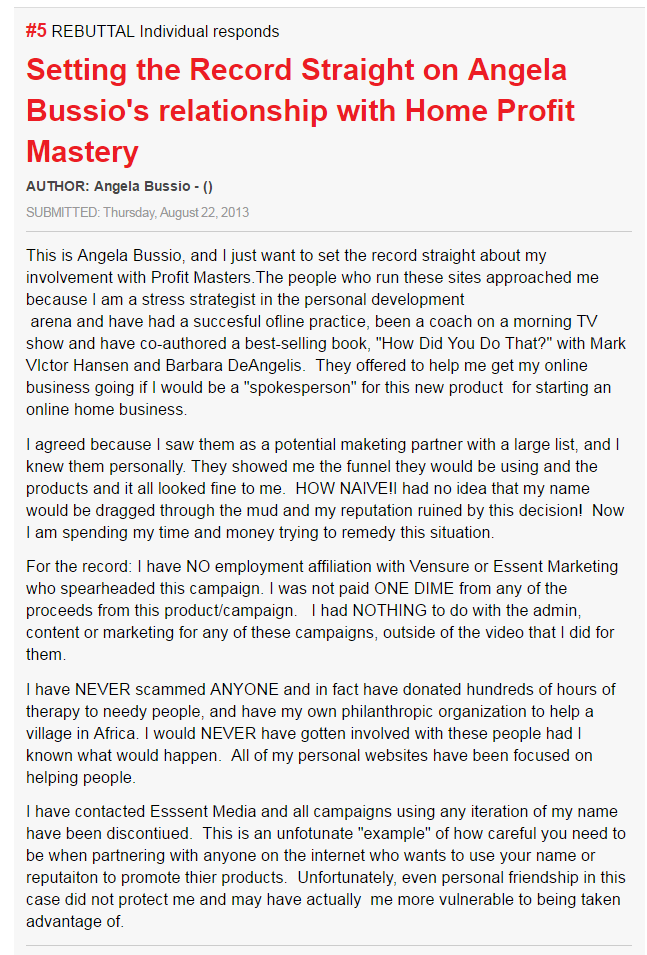 Are there alternatives to link posting?
Yes there are many legitimate alternatives to link posting. The most popular one is affiliate marketing. This is the kind of online business where you refer a product or service and when people take action, you get paid.
You refer these products by writing product reviews about them. When people read your reviews and buy these products, you get paid commission.
In order to carry out this kind of business, you need a website because most legitimate businesses like Amazon will not approve your application to become an affiliate if you don't have a website.
That's not all you need, you also need to learn the dos and don'ts of the business. There are many online programs that will teach you how to do this for a small monthly fee.
It is however better to find a place that will teach you how to run your business successfully and also provide you with the tools to build and host your website. Wealthy affiliate is just the place.
They have this amazing free starter program for newcomers that will help you do all of this. The good thing with them is that, their free membership does not expire. So, you can take your time and learn.
Other ways to make money online is through Fiverr, as fast growing freelance website that let people sell their skills to people across the world who need it.
You can also join a tutoring service or start your own service. Finally you can sell things you make online at Amazon, E bay and Esty.
Bottom line
If your dream is to start a business online, I can tell you right now with confidence that Angela Bussio's WHA program is not the place for you. You will waste time and money with them. Instead try a program like Wealthy affiliate that you can join for free.
Cheers Denise.