Product: Make me wealthy (education)
Website: Makemewealthy.com
Owner: Rory Ricord
Price:$97 one time payment and $28 recurring monthly payments.
Recommended? No, it is a fast money scheme
The first sign that 'make me wealthy' is a scam is the fact that it is advertised along side other scams like 'secure job position' and 'online jobs now'.
The last two I mentioned, are popular scams that look exactly alike and only differ in their names. They are owned by a certain Kelly Simmons who sometimes go by Kim or even Jessica.
This 'make me wealthy' scheme however is owned by Rory Ricord. He owns a good number of scams online that all promise you will make money fast. Almost all his schemes have the exact same video explaining to you how much he makes, blah blah,blah.
He makes you feel like it is easy; it is just copy and paste and you are rich. It is counter intuitive for anyone to think that they can make money now. I mean it is possible if you won the lottery or if some generous person made a donation to you.


But you and I both know how low the probability of either one of these happening is.
I don't know which need sent you looking for a work from home job. You maybe desperate and need money now but this program is not going to do that for you even though they claim it will.
The saying "nothing good comes easy" should be a good point of reference when dealing with online businesses. There are more make money scams online than there are legitimate businesses so it pays to be patient and investigate a business as you are doing right now.
Rory Ricord's 'make me wealthy scheme page' begins with a video presentation that is aimed at drawing your emotional attention by asking you a series of question and then telling you a success story you can't resist.
It goes further to tell you how valuable the offer is and that it could expire if you don't act fast. More so, they can only train 65 people at a time so if you delay, you could lose your spot.
He says he has been doing it since 1989, so he is an expert and the best person to show you how. He basically tell you he makes money by posting ads and getting millions of people to take actions on those ads. That is true and you are one of those people who took action on his ad today.
Now think, you probably got to his website today by clicking on one of those ads. If you buy into his product, he will make money. That is not necessarily bad but the problem is the claim that you will make huge amounts of money like him just by posting links is wrong.
His video really gives mixed messages; one time it tells you how easy and fast it is and then at another point it says it is not a make money quick scheme. He claims he is going to give you $500 if you tried his program and made no money. You have to do exactly as he says in order to make money if you don't you can't blame him for not making money (big trap).
He fails to tell you that what he is going to try to teach you, can be learned on that "supper highway" as he puts it for free. And that even after learning all you need to know, it takes a lot of hard work and determination to make passive income online and it takes time too.
Posting ads online for free! ( yeah right ). I am pretty sure he paid for the ad you clicked on. Don't even get me going on the pop up that keeps showing up every time you try to leave his website.
Every time you are reminded how this is a once in a lifetime opportunity and that it is not going to be around for ever. Then you are given a discount to persuade you to commit.
Please give me a break. It is going to be there the next time you look for it. It might change its name but it's going to be exactly the same scam.
What are people saying?
Below are some complaints made by people who have joined Rory Ricord's make money programs.
This first complaint is from a lady who paid for the program, went through it and built her website as advised. Just when she got her website setup and ready to make money, My Rory gave it to her mentor. I pulled this review from rory-ricord.pissedconsumer.com.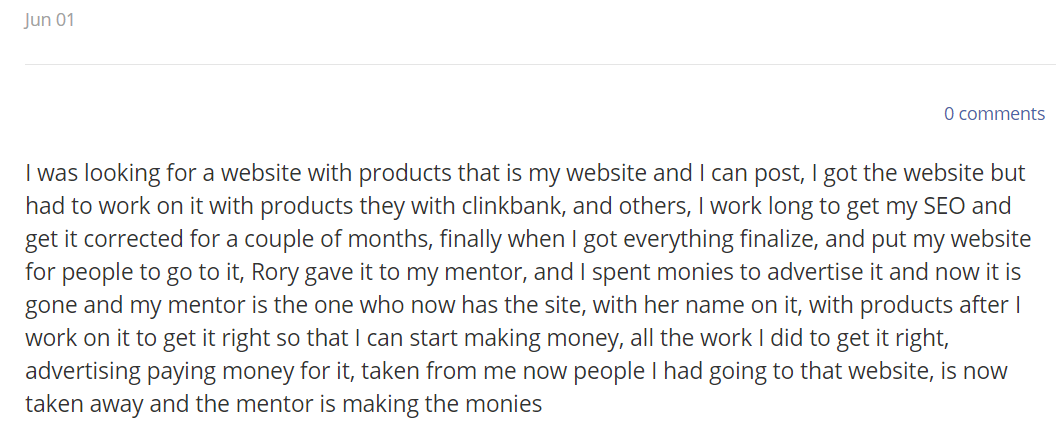 From the above review, it is clear that you stand a risk of building a website with this program, seeing as they can do with it as they wish.
This next two reviews is a BBB report. The better business bureau is a place many people go to find information about legitimate businesses. A business does not have to register with them to be legit. Many complaints are submitted to them and they try to contact these companies to resolve such complains.
The mother company for Rory Ricord, Brunette Marketing is rated F by BBB. You can read more complaints at bbb.org.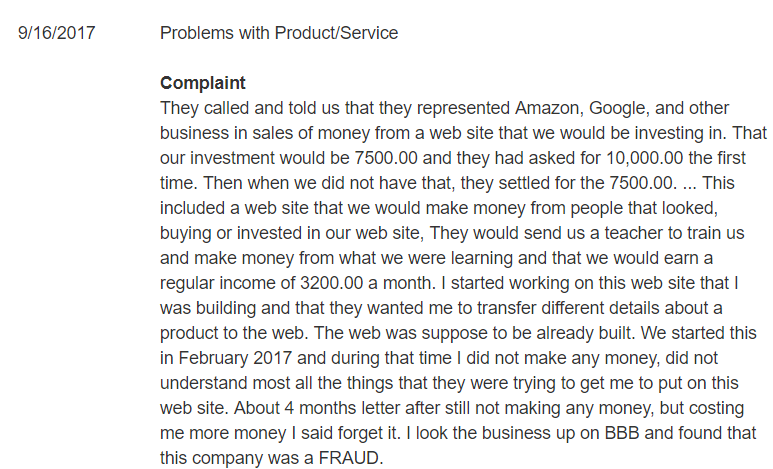 I believe in test drive. If you don't give me an opportunity to get a feel of a program before committing, forget it. I'm out. You should adopt this idea too.
How can you figure out if you will like Rory's program if he doesn't let you test drive.
If you are determined to learn how to make money online, go to wealthy affiliate and you will learn it there. Once there, you can test drive for as long as you like. Seriously, their free trial does not expire. You may not have access to all of their tools but you will have more than enough to get you going.
If after some time you feel like taking your business to another level, you can upgrade to the premium membership. But if on the other hand it doesn't satisfy your needs, you can leave no questions asked.
What does Wealthy Affiliate offer?
Unlimited trial membership. Positions are not limited and this trial won't expire.
With the free membership, you can build up to two free websites.
You can build and host 50 websites with the premium membership.
You get the "getting started entrepreneurial lessons" for free. You will learn everything from affiliate marketing to social media marketing.
You get much more. Below is a table that summarizes it nicely.
In conclusion
Rory Ricord is known for his numerous online link posting fast money schemes like work at home institute and home job placement.
He claims this program is BBB A+ but I couldn't find such a review.
Link posting is not a great way to make money online except when you have thousands of people doing it for you.Rory will teach you to do this so you can make him more money but little or nothing for you.
He claims that the proof that his program works is the fact that he will refund all of your money if you don't make any money in two months. It gets me into thinking, Rory if you think it is that good why not make the two months a free trial period.
If you have a passion for making money from home. You should read my post titled getting started on how to begin.
I hope this post was helpful. Leaving your comments or concerns below in the comments area and I will reply as soon as possible.
Cheers Denise.