The answer to the question of whether one can make money or not with Wealthy Affiliate is, a resounding Yes . However, the big question one should be asking is not whether one can make money with this program or not, but how much one can make and the difficulty associated. 
In this post, I will explain exactly why it is is possible to make money with wealthy affiliate and why many people don't. Before I can go into the details of why people don't make money at wealthy affiliate, I will like to give you a run down of the program so you can better appreciate the topic at hand.
What is wealthy affiliate university?
Wealthy affiliate university as the name suggest, is a program that teaches people how to make money online. Like any university, or educational institution, the success of the student, is mostly dependent on how well they learn and apply what they learn.
At wealthy affiliate, the courses are all laid out for you from day one. You are welcomed by the owners, your referrer and several members of the community. You are guided towards the certification courses for newbies and almost everyone will tell you to take your time and learn everything that is taught to you.
There are several lessons available. These lessons are step by step and arranged to make learning chronological and easy. All these lessons are task oriented so you get the chance to apply what you are learning.
There are three levels of membership, Free, Premium and Premium Plus. I advice my readers to join the free membership because, this gives them the opportunity to learn in a pressure free environment (they don't have to worry about membership when they are learning). 
More so, a free membership gives you time to browser the site, learn enough, and make an informed decision on whether to upgrade to premium or not. You can also make mistakes without hurting financially.
With your free membership, you can build a free websites. On this website, you can practice what you learn. Every time you finish a lesson, you are given certain task you should complete on your website. You can take advantage of this free website and complete the set task on them.
On this free website, you will get to know whether your chosen niche is lucrative or not. You will also find out if you are applying your lessons properly. This will save you from the trouble I went through as a newbie.
Why do people fail to make money with Wealthy Affiliate?
Quick money mania
Before I joined Wealthy affiliate, I went online looking for a work from home job. I found one that turned out to be a scam and then I stumbled onto a review of wealthy affiliate. I learned that I could really make money at wealthy affiliate if I learned and applied what they were teaching. I jumped right in because I am a book worm, plus they did not ask for my credit card info upfront.
When I joined, I though I needed to upgrade to premium right away. I did that within days, bough a domain name and built a website before I knew any better. After six months of hard work, I realized that my niche was too competitive and had to start all over with a new one.
I had been so excited and in a mad rush to make money that I skipped a lot of the lessons and task after each lesson. If I had just used a free website for practice, taken my time to learn everything and completed every tasked as advised, I won't have wasted six months of my time on the wrong quest.
This happens to so many people who join wealthy affiliate. After several months of work with no result to show for it, they give up and blame wealthy affiliate for their failure. I believe this is the #1 reason people don't make money at wealthy affiliate.
Wrong Niche
One of the very first things you need to do when you join wealthy affiliate is to choose your niche. Some niches are very competitive, very lucrative and thus difficult to make money in. Other niches have very low competition but are not lucrative. Others are moderately competitive and very lucrative and present a better chance of making money.
If you chose the wrong niche as I did the first time, you will work hard and long and see no results. If you chose the right niche, you will be working smart, hard and you will make money. Many have so much trouble with finding the right niche and after several tries give up and conclude that wealthy affiliate does not work.
It is not a one size fit all program
Wealthy affiliate focuses most of its lesson on affiliate marketing. In affiliate marketing, you are a publisher. This means you need to write and publish a lot of content.
When many people join wealthy affiliate, they don't realize this. They find out later on and are disappointed. Many people hate writing and if you do not have the income to pay another to write for you, then you cannot make any reasonable amount of money at wealthy affiliate.
Lately however, Wealthy affiliate have added lessons on e-commerce, social marketing, email marketing and video marketing. So if writing is not your thing, you can try the other methods of marketing to make money. Either way, you will still need to do some writing. Below is a thorough review of Wealthy affiliate University if you want to know more.
Review of wealthy affiliate university
Wealthy affiliate University was created by Kyle and Carson with the aim of helping other people enjoy the kind of success they were already enjoying as online entrepreneurs.
It was created in 2005 and since then has helped more than a million budding internet entrepreneurs. Wealthy affiliate which is also known as wealthy affiliate university help people by teaching them what they need to know in other to succeed online.
Unlike other online programs, at wealthy affiliate, what you see is what you get; there are no up sells. Everything is laid down for you to understand in terms of membership right from the beginning.
There is a great team of professionals that work tirelessly behind the scenes to make wealthy affiliate what it is today. They include but are not limited to;
Kyle who is the marketing chief and co-founder. He believes that  "You cannot make people love a service, you have to create a service that people love." He works on a lot of the training offered by wealthy affiliate.
Carson, design chief and co founder believes that "Effective design isn't the process of adding more, it is the focused process of being able to take away and simplify." Carson is passionate about bringing ideas to life in the most simple ways possible.
KC; the programming chief is responsible for many of the technological innovations that take place at wealthy affiliates
Aaron the technology chief is responsible for keeping the "beast" at wealthy affiliate running smoothly.
Jay who is the training chief and is so amazing at his job, believes  that "There is no reason to ever stop learning. The skills you learn today could pay off forever in the future".
What does wealthy affiliate do?
First and foremost Wealthy affiliate is an educational platform for people looking to start a business online. In other to make life easier for you, they have brought together some great services so you can have almost all you need in one place.
In addition to education, they provide website building platforms, domain purchase platforms, comment platforms, feedback platforms and more.
Education
They offer a good and simple approach to online marketing. The lessons, certification courses, tutorials and live video classes are well within or in some cases ahead of the curve and the competition in terms of what works today and what will work tomorrow.
This is very important because the online business world changes rapidly as technology, search engine algorithms and other aspects of online marketing change.
Training at WA is step by step and task oriented. This makes it easy for almost anyone to keep up. They offer both written and video training and offer about 52 live classes a year.
With the education at WA, you can take almost any passion and turn it into a successful business.
For example, let's say that you are passionate about skiing. Well with proper education you can learn how to turn this passion into a successful business.
You can develop a website about skiing, write and recommend ski gears and resorts, supplies, techniques and much more related to skiing.
Then when you start getting traffic, you can use several methods taught at wealthy affiliate to monetize your site.
Websites
Most if not all successful businesses in the 21st century have a website. Websites help businesses reach more people faster. This is the way you are going to tell the world about your products and services. With a website you have more control over content, commercials, and many other aspects of your business.
At Wealthy affiliate, you have three levels of membership that all offer you the opportunity to build websites.
There is a starter membership that is free ($0) and with this membership you can build a free website.

With the premium membership, you can build as many websites as you want but wealthy affiliate will host the first 10 websites.
The premium membership cost $49 a month. Below is a table that outlines the benefits of both the free and the premium membership.

Building a website at WA is made very easy and secure with SiteRubix; one of the leading website building platform in the world.
This platform is an integrated tool for management, website analysis, ranking and security.
Building and maintaining a site on SiteRubix is ridiculously easy; it takes an average of 34 seconds to complete.
Security 
When you say the word internet, many people think hackers for a good reason. Websites face major threats from malicious software all the time.
Take the case of Wanna crypt for example. Without proper security, your business can be hijacked and all your hard work will be lost.
At WA with the SiteRubix platform, security is very important. This year alone, WA overcame the attacks of 27,195,900 hackers.
Web Hosting 
After you build your website, you need to find a place to host it. When looking for hosting services, there are many things to consider.
First, you want to make sure this service has at least a 99% up time. Wealthy affiliate has a 99.9% up time. This means you can be sure your business will be on and active almost always.
Another thing to look for in a hosting service is redundancy. At Wealthy affiliate, there is full redundancy. Your entire website is backed up regularly. This means, if something unforeseen happened to your site, it can always be recovered.
Finally, you want a company that offers 24/7 customer service and Wealthy affiliate does that.
 Domains
A domain is a name like www.mysitename.com. In order to build a website, you need to buy a domain name from an accredited domain name registrar. With WA, the experience is very seamless. WA has a powerful and comprehensive search with the SiteDomains platform.
Accessing and purchasing top domains like .com, .org, and .net are so easy and only takes minutes. When you buy a domain with WA, there are no Up sells (what you see is what you get) and the price won't change over the years.
Each domain you buy at WA comes with full access to emails, full privacy and domain protection, way better than what the competition offers.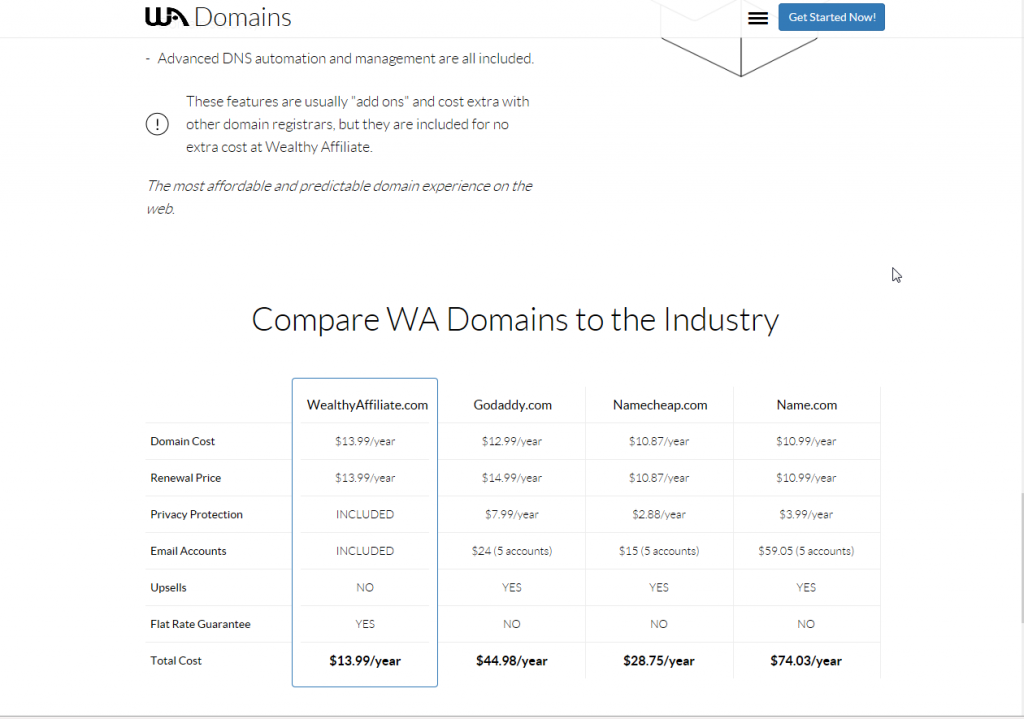 Community
The community at WA is so amazing. In fact they offer the best community experience at WA. Period. I have never seen a community that was so eager to help. I was on WA only for a day and already had about 20+ people welcoming me and telling me not to hesitate to ask for help if I needed any.
The community size at WA is about 580,000 and growing. Members are from 195 countries around the world. It is so amazing when you are having a live chat with someone and they are hundreds of miles across the world from you.
Networking is encouraged at WA and is a source of lifelong friendships for many. This is facilitated by live chats and private messages.
They encourage the spirit of pay it forward in the community with their Site Comment and Site Feedback platform. They believe in helping each other in a competitive world.
Success
At WA, you can surround yourself with successful people who will motivate you and drive you towards success. There are thousands of people making money every day using Wealthy affiliate.
With the WA affiliate program, success is made even easier. The key is to work hard, be patient and never to give up.
CONS
Nothing man made is perfect, however, nothing comes so close to perfection as wealthy affiliate university. One problem with WA is also one of its greatest tool "community". With such a large community, when ever anyone needs help, they get it in an instant but the help or answer they get for a question is not always right or the best. 
Sometimes the answers are corrected by the team especially Kyle but sometimes it takes too long. So, while at WA don't always take what everyone says as true.
It is better sometimes to leave Kyle a personal message with your question and wait for your answer patiently. He is busy obviously since he has so many people looking up to him but he tries his best to answer.
Is wealthy affiliate for everyone?
Of course not. Wealthy affiliate is designed for people who are ready to take action and implement what they learn as they learn. It is a place for self-starters and business oriented minds. It is meant for people who like to write because you need to write a lot to make money.
It is not a place for you if you hate writing and do not have money to pay someone to do it for you. It is not a place for you if you will rather work for someone because, once you join this program, you should prepared to be the boss and assume the responsibilities that come with it.
Conclusion
On a scale of 1-10, Wealthy affiliate university is a solid 9. You can definitely make money with wealthy affiliate if you put in the effort and complete the task as you are taught. Whether you are a beginner or pro, Wealthy Affiliate University can work for you especially as they have added site tools to convert your website from http to https. Now when people visit your site, they can see that it is secure by seeing the green lock and the word secure. There many more additional features.
Wealthy affiliate is working on adding more to their program. This is a place that keeps on reinventing its self. Click here to start your free membership.
Please leave a comment!
 Cheers Denise