Overview
Today I will be writing a review about Earn2trade to help you in your decision of whether to join or not.
Earn2Trade is a new comprehensive Futures and Forex education provider.
By comprehensive, I mean the creators of this project want to provide traders with educational videos, webinars, trading simulators, reference guides, quizzes, assignments, ongoing support and mentor-ship.
All of this comes at a price tag of $700 a month. This is certainly a lot for most beginners to handle but let me continue with the review and let you make the decision for yourself.
Earn2trade is run by two experienced traders, and supported by accomplished educators and outstanding developers.
Its co-founders are Ryan Masten and David Lojko. It is not sure where there head quarters is located in the US but they can be reached at support@earn2trade.com or 1-888-502-2260.
What is Earn2trade all about?
Earn2trade's goal is to teach people how to become successful professional traders. The team consists of 4 main members, a teacher, a developer and two active successful day-traders.
This program provides 3 distinct plans; Classic, Live and Gauntlet plans as shown in the table below. The classic is the cheapest while the live plan is a combination of all three plans and thus the most expensive at $699 a month.
That is a seriously big price tag!

The classic plan is designed for traders who want education only. The other two plans have more added to it to help anyone supposedly become a professional trader.
The core of the other two programs is the gauntlet package which according to creators is "the gate way to becoming a professional trader"
What then is the gauntlet package?  
Gauntlet is basically a simulated program that provides members with faux cash to practice trading with for 60 days to prove their prowess.
This plan is meant for those who already know a lot about trading and will like to proof their skills to a propriety trading firm.
During these 60 days evaluation, information is gathered as you trade and at the end of it, Earn2trade claims that, you can submit this data to a proprietary trading firm associated with their team.
The statement below was provided by E2T to explain the gauntlet.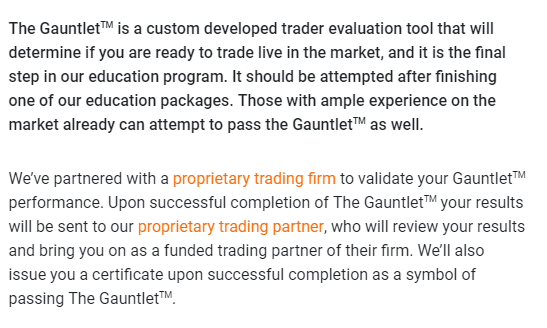 So according to the statement above, this propriety firm will in turn, review your performance during this 60 days evaluation period and if they like your performance, they will invite you to join their firm as a professional trader and trade real money.
If all of this is true, this means you will be trading with the companies money but you will still retain 80% of the profits.
Ok, this all sounds very fine and dandy but there is not enough information about these propriety firms.
Without adequate information, it is hard to determine the legitimacy of  such a company so I will advice you to tread with caution.
Bottom line
Earn2trade sounds like a promising program. However, I have seen many programs like  Wall Street Academy, and Forever in Profit come up with similar plans that never worked.
The owners of E2T are professional and hopefully have though it through. However, look before you leap.
If you would like to learn of another way to make money online, try Wealthy affiliate's free membership to learn how. 
Also, if you will rather find a traditional work from home job, then click here for a list of the top 100 legit work from home jobs.