There are way too many programs on the internet that promise things they never deliver on. If you type the phrase 'free credit score' on any search engine for example, you will get hundreds of results most of which are scams. Some of these results will lead you to multiple pages, with each offering you yet another free thing it is not going to deliver on.
You are here today because you will like to know whether credit karma is a scam. This is a smart decision on your part. Lets get to it!
Company: Credit Karma
Product: Free credit score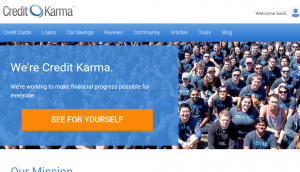 Price: $ 0
Recommended: yes
What is credit Karma?
Credit karma is an online business founded by Ken Lin who doubles as the chief executive officer. Credit karma has over 60 million members and the number keeps growing.  Credit karma has a mission to give everyone of their members the tools, education and opportunities they need to make real and meaningful progress in their finances. They believe everyone deserve to feel confident about their finances.
What does credit karma offer?
They offer their members access to free credit scores, report and monitoring. They offer credit scores from Transunion and Equifax. If there are any errors on your credit score, credit karma can help you dispute it. If you are paying more in interest than you should, credit karma can help you get a better rate.
How does credit karma stay free?
Credit karma displays a variety of offers on their site that helps pay for running the site. These offers are usually credit card offers or loans from a variety of financial organizations. These offers are tailored to you depending on the result of your credit score.


When ever someone accepts an offer, credit karma gets paid a small fee by the financial organization responsible for the offer. They have 60 million members and everyday, someone accepts or enroll to an offer.
My take on Credit karma
I moved to the United States eight years ago in August and by October I had my daughter. Ignorant of all the services the government offered like Medicare, I left the hospital with 15,000+ in hospital bills.
A couple years later, I decided to apply for my first credit card and had been declined on account of having a poor credit score. I had no idea what a credit score was but I knew I needed a credit card and had to figure out how to get one. My first step was to understand what my credit score translated to and that is how I found credit karma (after more than a dozen misleading websites).
After creating an account and giving them my demographics, I was able to see my first detailed credit score from Transunion. I was able to determine from the my credit report that I had outstanding hospital bills that had been reported to Transunion.
Lucky enough for me, only a couple thousand dollars was reported the rest had been cleared by some hospital discount plan since I was jobless at the time I had my baby and had never worked in the US. I made plans to pay this off and as I cleared each account, I could monitor via credit karma how my credit score improved.
As my credit improved, I began getting credit card offers and was finally able to obtain one eight months after becoming a member of Credit Karma. Without their amazing tools, I wouldn't have known how to fix my credit score.
I am still a member today and have grown my credit score from about 450 to 743.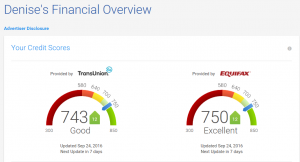 Final thoughts
For something that is free, Credit karma offers a lot. I have not utilized all the tools it offers but the few I have used have helped me to make a lot of progress in my finances. If you are looking for a place to obtain your free credit score, Credit karma will do it for you.
I hope this post was helpful, please leave a comment.
Cheers Denise.