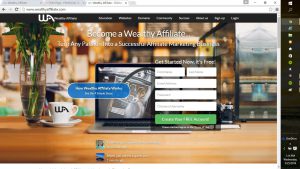 You surely must have come across wealthy affiliate in your quest for work from home programs. The average online business person in whatever capacity must have seen or joined wealthy affiliate a couple of time going by my experience of the amazing online money making seekers program.
And the question often asked by many is whether wealthy affiliate is a legit program or scam site. Going by my experience of the site, I want to give you my unbiased view of the platform in this review.
Most things I learn in online business I can trace the origin to wealthy affiliate. I initially thought of wealthy affiliate as a place where anything goes, but I was wrong.
The site will allow you to join for free with the option to upgrade to premium membership; this part is where it turns into a problem for most people. If you are one of those people who have the thinking that starting an online business is a freebie, think again because it is not.
From the ongoing, let me settle the question of legitimacy of wealthy affiliate. The site is legitimate and has been paying its affiliates since it started but don't expect it to be a gold mine if you are the type who lack action in your business plan.

Every step in wealthy affiliate is action oriented, and failure to take action often results in no income on the platform. It goes to say that nothing good comes easy.
Now, let's talk about wealthy affiliate, how it works.
What is Wealthy Affiliate program?
Wealthy affiliate was founded by two internet marketers Carson and Kyle in 2005 as an online community where entrepreneurs learn how to create and grow a profitable online business.
It is a sort of online training school for people seeking to understand online business. The platform has grown from a few people back in 2005 to more than 800,000 internet community today and still growing.
The purpose of wealthy affiliate is to teach its members how to build successful online businesses. Every member passes through four distinct stages to become an income earning affiliate on WA.
Although not every member on the platform can boast of making money, that does not take away from the potential of wealthy affiliate to help you make money as an affiliate. Let's look at the four steps you need to pass through when you join WA.
Step 1: Select your interest
You know this is true of every business. Before you start making money in business, you must have something you are offering to the market. Choosing your interest in WA allows you to decide what you want to do to make money.
In this regards, wealthy affiliate boasts of abundance of interest areas you can choose from when you start. If doing what you love is what you have heard so much about when starting a business this is the point to put it to practice.
Step 2: Create a Website
You are starting online business as an entrepreneur; you will need a website. A website is like your storefront to display your ware to customers. The next step of action you will need to take when you join wealthy affiliate is to build a website for your business. In building a website, WA will present you the most advanced technical support for a hassle free experience.
Your website is the tool to make money online and in Wealthy affiliate.
You can complete a website in about a minute. You have everything needed to build a money making website on WA even if you do not have prior experience in website building. Your job as a member is to follow instruction and have your business set up for you.
Always remember that Wealthy affiliate is an online school where members are trained how to do business online, and your responsibility is to listen and follow instructions.
Step 3: Get visitors
To sell a product you need buyers. The advantage in online business is that it has lots of people you can attract to your site daily. The internet boasts of more than 3.75 billion people, and these are potential visitors to your site.
After you have built your website the next is learning how to attract visitors. In Wealthy affiliate there are up to date traffic generation techniques you will learn to get visitors to your site.
You will need to remember that while other steps may be one off, getting visitors is an ongoing task. The more you learn how to attract visitors the better you will succeed in your wealthy affiliate business.
Step 4: Make income
Earning income is the expectation of everyone joining wealthy affiliate, but I can say it is not a guarantee. You must have come across series of scam reports or reviews of Wealthy affiliate.
The reason mostly results from the lack of income at this stage. However, if you follow instruction are ready to wait, I can assure you will make income with time.
To make money on WA, you can sell your product or join any of the platform's affiliate programs. It is expected that as a newbie you may not have the experience to create a product yourself.
Therefore, another way to have something to sell is by joining on-site affiliate program and start promoting such offer till people start buying from you and earn 75% commission.
Beyond the steps what more do you need to know about WA?
Wealthy Affiliate has two types of membership; the free membership and premium membership.
Premium membership has three options including a first-month premium offer of $19, regular monthly fee of $47 and annual fee of $359. When you start the first month on discount, you should know that subsequent months will attract $47 membership fees.
While a lot think of Wealthy Affiliate as a gold mine, let me warn that it is not all rosy at WA as a huge number of its members never make a dime.
This is not because the program does not work it is because members had a wrong impression of WA.
Don't fall for the hype
If you are thinking of joining WA, I want you to see it as a business to learn and build skill on how to make money online. It teaches you what you need to know, but it is not a guarantee you will make money from the site.
Today, majority of successful online entrepreneurs will hold their success to WA, it is where they learn the rope, but until you take up the gauntlet and do the business as you should don't expect to make money so fast!
In my opinion, there are more of sweet sales pitches in selling WA by many on the internet than the program could afford to give you. Perhaps, this is one lesson you need to learn too as a student seeking to understand online business.
You should also know that converting people is beyond the statistics of lots of people being online. It has more to do with how well you understand the product you are offering and its benefits to prospective market.
Is wealthy affiliate for you?
Are you interested in learning how to make money online and don't know where to start? Perhaps you want to try Wealthy affiliate to put you through necessary steps to start online business.
You can learn how to rank your content, how to create great content, how to market your content and promote your products. Wealthy affiliate will teach you how to start/build your website to start selling online.
If you fall into the category of newbie or you have been struggling to make money in online business, you want to give Wealthy affiliate a try to hone your skill and start making money with what you have learned.
What will Wealthy Affiliate do for you?
Having prepared your mind for the true position of things when you join WA let me add that you have more to gain than to lose. To understand how to make money online, you need to learn from people who have been there.
Mentoring is an important part of succeeding in business. Joining WA will open you to avalanche of connection with the right minds to mentor and direct you on the path to success but do not get your hopes too high about making so much money immediately you joined.
Like with any business, you need to invest time, effort and money to succeed.
Cheers Denise.