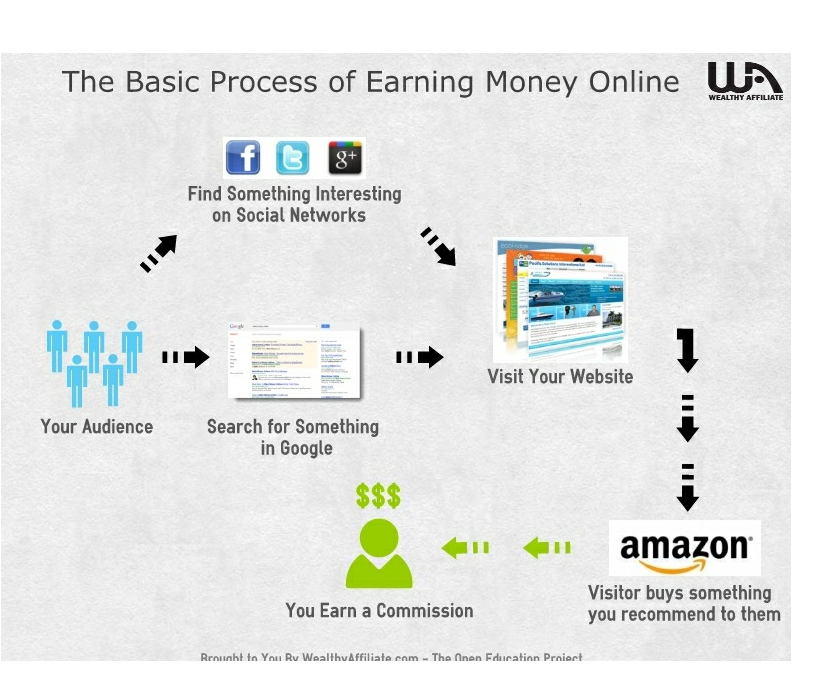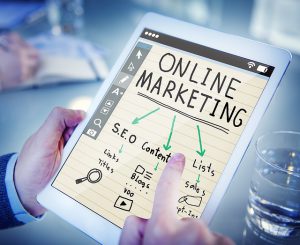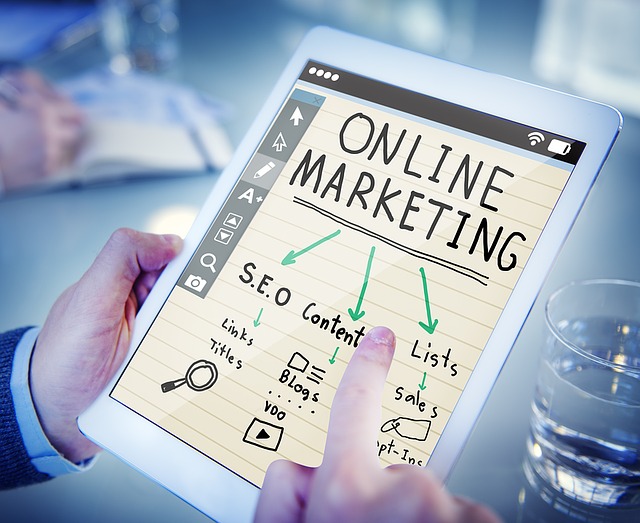 Affiliate marketing is a type of marketing in which one person (the affiliate) promotes the product of another or a company and gets paid a percentage of the sales.
It works by linking a publisher to an advertiser. Say for example you are passionate about hiking backpacks and have plenty of experience on this topic, you could promote the product of an advertiser you believe makes great hiking backpacks.
If this advertiser has an affiliate program (many companies do), they will pay you the publisher a percentage(commission) of the sale of that product if someone goes through your site and buys the product.
How does affiliate marketing work?
Many companies like Amazon, Walmart, Baby r us and EBay have affiliate programs. These companies work with publishers to help advertise their products. These publishers are called affiliates thus the term affiliate marketing.
To become an affiliate, you need to enroll in the affiliate program of these companies. Registration is usually free and very easy to do.
After applying, there is a wait period when these companies determine your qualification. If your application is approved, you are assigned a unique affiliate number that will link your site to theirs.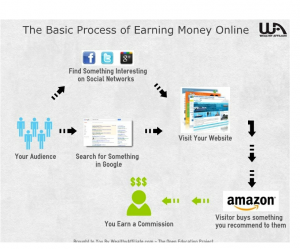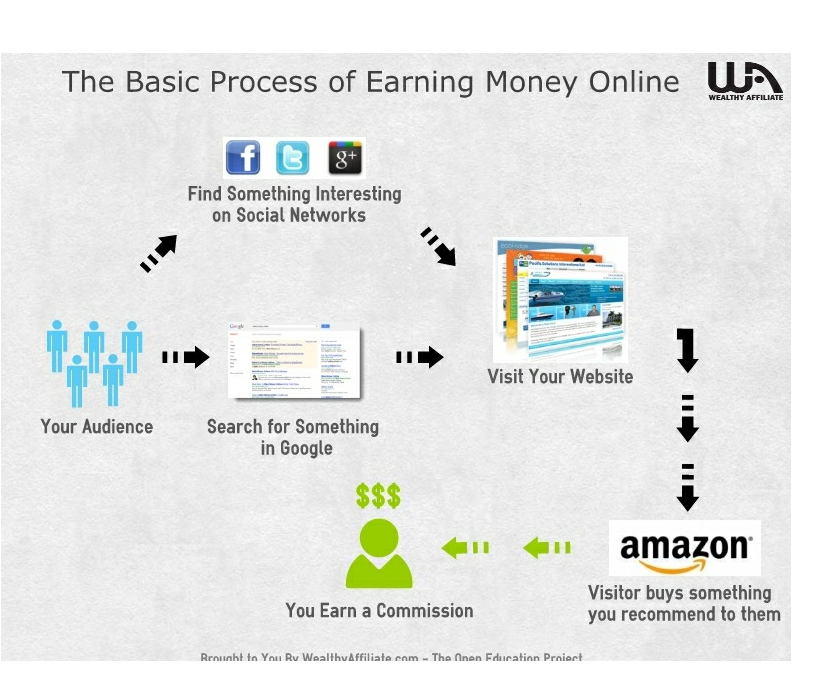 You can put product links from these sites on your website. Whenever someone visits your site, they might like the product and click on that link which will take them to the site of the retailer or advertiser.
If this visitor buys from that site, you get paid a percentage of the sales.
Advantages of affiliate marketing
You do not have to have a product in order to get into business. In affiliate marketing, you make money by recommending other people's products.
In order words, your business is to offer services to people by writing product reviews which can help people in making their purchase decision.
Since you don't have a product, you do not have to worry about things like product development/manufacture, packaging, transportation, distribution, damages and sales. It is a lot easier for you than it is for the manufacturer.
You do not have to have a huge start up budget as is required for starting some businesses. With affiliate marketing, most if not all of your work is done on the internet.
You can work from any place in the world; this implies that someone residing in India can be an affiliate of a business based in the U.S. or anywhere in the world.
If you have a brand of your own, affiliate marketing is a great way to gain popularity. This is so because affiliates will use their own skills to make your brand popular. It is also low risk for you because you only pay if it works.
Disadvantages of affiliate marketing
For beginners, affiliate income may not be sustainable since pay is usually sporadic. There is also the problem of link hijackers who hack into sites and are paid instead of the affiliates.
How can I find an affiliate program for my niche?
A niche is a narrow segment of the market for a specific products. A niche is different from a field which is broader. A field could be say baby products and a niche will be a subsection in that field and could be something like sport strollers.
Let's say your niche is about sport strollers, then to find affiliate programs for that niche you simply go to google and type "sport strollers + affiliate programs". This will pull up a list of possible affiliate programs for your niche which you can choose from.
# 1 affiliate program
There are many great affiliate programs out there, all you have to do is look. Among these programs, Wealthy affiliate (WA) provides one of the most generous commissions for both its starter members and premium members.
With Wealthy affiliate, you do not only benefit from the generous affiliate program, you also get a rich package composed of step by step lessons in audio, video and written form, domain purchase tool, website building platform, site monitoring and top level security.
With good security, you do not have to worry about link hijackers (you can focus on growing your business).
You can enroll for free and be qualified for most of these tools/platforms. There is no rush and no up sells (what you see is what you get).
The free membership has no expiring date; this means you are given enough time to get to know the program and decide for yourself if you want to upgrade or not.

What you get by being a member of WA is a great community, plenty of step by step tutoring on how to set up a successful business online and access to the most lucrative affiliate program online. The table is a summary of what wealthy affiliate offers and below the commissions offered by wealthy affiliate.
STARTER Member Commissions:
Initial $19 offer, Commission = $4
$47/month, Commission = $11.25 recurring
$359/year, Commission = $87.50 recurring
Premium Member Commissions:
Credits: They Set-up their account = $1
Initial $19 offer, Commission = $8
$47/month, Commission = $22.50 recurring
$359/year, Commission = $175 recurring!
Make the move towards financial independence today with Wealthy affiliate.
Please Leave a comment!
Cheers Denise.