With the economy getting tougher by the day, many people are looking towards the internet for subsidiary income. The problem with this is, scammers know how desperate people are and do not hesitate to rip them off. There are many scams on the internet today claiming to help people acquire instant riches and The Cash from home scam is one of them.
Product: Cynthia Spriter's (some times known as Mary Rogers) cash from home scam.
Program type: Link posting scam
Website: securebusinesssites.com, homejobs.com, cashfromhome.com, cashfromhome.net and a few others.
Recommended? No, it is a scam
What is cash from home?
Today, I want to talk about the cash from home scam and I will prove that this is not a legit work from home business as claimed.
Let's begin! Type the phrase top three work at home jobs on the search box in the Bing browser and the page that comes up should look something like this.
Note, this review was done in 2016, the so called legit make money programs in the top 3 work at home jobs has been changing almost every week since then. For someone who has not come across it before, it might look legit but it is not. These programs may change their names and website but it is the exact same scam.
Click on the first ad on this page . This will take you to a page that claims cash from home and two others are the top three work from home businesses (I have noticed lately that the three programs displayed on this page vary over time so there is a possibility that you might not find cash from home on that list today).

If you scan through this page, you will notice that they all claim to have exactly the same numbers of likes on Facebook (1547 like); big red flag (I don't think coincidences happens like that) . Especially when they claim these 3 programs are different.

Now take a look at the page and you'll notice that all three make claims about being featured on major TV channels like CNN, NBC, USA today. These are all lies because I could not find any shred of evidence on CNN, NBC or USA today to prove their claim. What I found out was that these scams use these logos without approval. The tactics of using the logo of trustworthy organizations to back a scam is very popular among scammers.
It works so well because many people trust organizations like CNN. Nowadays, with the surge in fake news, may be people will think twice before falling for schemes like this.
Now click on the #1 pick cash from home (or which ever new scheme they have going. Lately it has been computer+another phrase, e.g. computer assurance or computer everyday program). Anyway, clicking on the top link will take you to a page with sketchy information about what this program is all about. It claims you can start making money in five minutes. It is not that this is impossible but it sounds too good to be true.
Before they have given you any useful information, they start asking for your personal information.
I was skeptical so I dug deeper and found a link that took me to another site that gave a little more details about this program. This is the link; http://www.securebusinesssites.com/tpl/20261 (the link will open in a new page. Lately, this site was place on sale. I think it is just another way to scam people out of hard earned money).
The image below shows you one of the pages I arrived at. Do you notice how they claim only 3 spots are left in my area. They go one to say further down in the page to say that I need to act fast or loose my spot because after they reach the target number of people, they will close the site.
This got me thinking, if they close this site after collecting all this money from several people, then how will these people contact them for help when they get stuck using the program?
Anyway, just as they said, weeks later, this site is no where to be found. Now they probably have it under another website with a whole different address.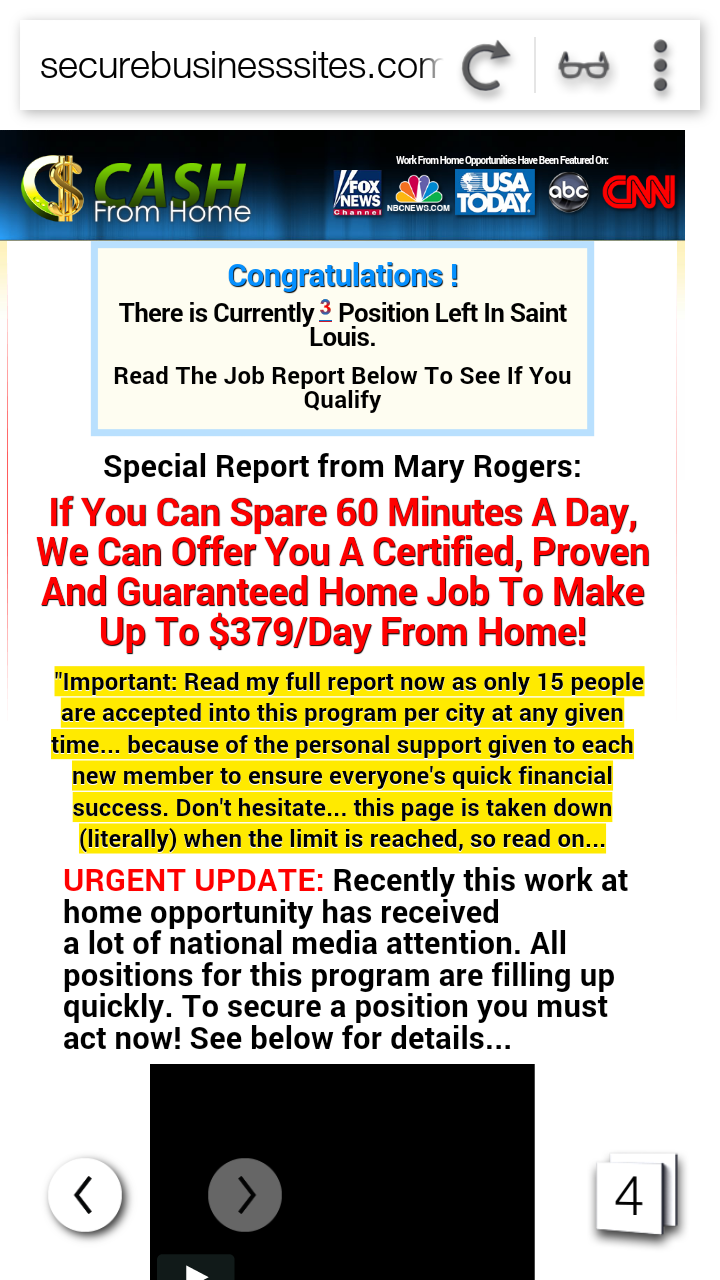 This website does not offer a trail membership. This is a problem as many legitimate work from home sites today offer free membership. This is very important because it gives you the time to study the sites from within before making up your mind to upgrade to paid membership.
Verdict
I have one word for cash from home- scam! Yes if you are interested in working from home and have stumbled on this run away and do not look back. It is going to be a waste of time and money.
If this experience has not discouraged you and you still want a place to learn how to make money online, wealthy affiliate is a good place to start.
My #1 recommendation for a place to learn how to work from home is Wealthy affiliate. This is an organization that was started by Kyle and Carson to help budding online entrepreneurs succeed online. At Wealthy Affiliate, they offer you a free membership that does not expire and with this membership, you are given valuable lessons and tools to help you start a business from home.
Each of us have things we are passionate about. Wealthy affiliate help you grow this passion into a business. They don't promise you over night success but give you the tools you can use to succeed.
It requires dedication and since you will be doing something you love, it will hardly feel like working. Don't let scammers get you and break your heart. Check out Wealthy Affiliate for free and if you don't like it, just walk away. Take control of your financial future today! Click here to join for free.
I hope this review was helpful to you. Please leave a comment and thank you for reading.
Cheers Denise