Yoonla is a digital marketing education platform that teaches people how to make money through CPA and email marketing techniques.
Yoonla.com was launched in September 2016 by Reno Van Boven, a successful digital entrepreneur from Netherlands, with over 12 years of experience.
Since then Yoonla has changed its name several times. It started as Yoonla foundation, then became Yoonla evolve and now it is Yoonla Academy.
This CPA affiliate program is easy to set up and is free to join for the most part. In this review of Yoonla, you will learn about the program, how it has evolved and their affiliate program, pros and cons and finally my opinion.
What is yoonla.com?
Yoonla.com, also called yoonla evolve or yoonla academy prides itself in being a digital life style platform where they can help people to become digital entrepreneurs.
They currently provide two levels of membership; their digital startup program (free) and their digital business mega program (launched the 28th of March 2019). A third program will be launched late in 2019 and is called digital business ultimate program (will be designed for the big boys and girls, per owner)
They currently run some sort of a two tier CPA affiliate program.  First, they pay you a commission whenever someone signs up for their basic program. Then they pay you more when that person upgrades to one of their premium programs.
Their model is very similar to those of many email marketing training programs. The predecessor to this program was a program called the Affiliate app. This one felt through a while back. Yoonla however differs in that, their initial program is free.
With their initial program, you can learn a lot of neat stuff about CPA and email marketing.
Yoonla Digital business startup (old version)
This level of membership was offered for free. There were 7 major steps involved as shown in the image below.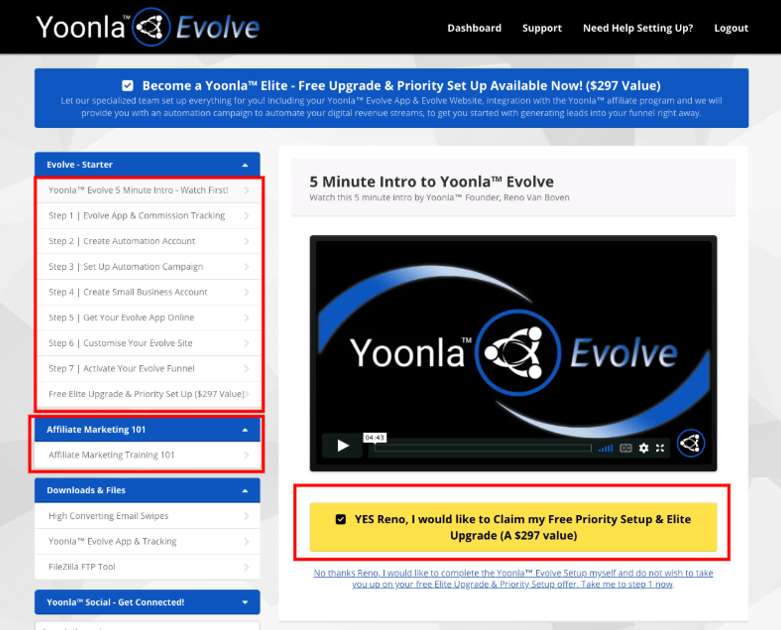 The goal of the 7 step training was to help you set up your own Yoonla Capture page and autoresponder.  It also helped you ascend to the Yoonla Elite level where you were to have access to the CPA and Affiliate programs.
If you choose to skip the whole 7 step process where you do it yourself, you could click on the yellow tab on the image above. This would have taken you to the Yoonla Elite program. This meant, Yoonla will build your landing pages and set up your auto responder for you and make sure everything was working properly.
It is also important to note that you would have had to upgrade to the elite status to enjoy most of the benefits of this platform at the time.
After setting up and customizing your landing page and autoresponder, it was time to draw traffic to your squeeze page. Yoonla did not really teach free traffic generation methods.
They recommended the use of solo ads. Solo ads is this platform where you pay people with big email list to send emails for you. It is expensive and recently kind of ineffective as some people end up receiving similar emails from multiple people.
Look at it this ways, Yoonla taught everyone to build a squeeze page to promote their program. Imagine now that 1000 people joined this program and were taught this. Then, they were told to use solo ads to promote these pages.
When this happened, you will have 1000 people requesting advertisers on solo ads to send emails for them. These 1000 emails were usually similar as they all promoted Yoonla.
Inevitably, some people on these advertisers email list got similar emails from several affiliates and this was a beg problem as people became over sensitized.
Before you venture into solo ads, it is advisable to seek the help of people experienced in this domain.
Yoonla Elites and Affiliate Program (old version)
The aim of Yoonla was for all its members to eventually join the elite level of the program. In this level, you could enjoy the benefits of the CPA and affiliate program. The elite membership was free to join but you had to invest in some tools in order to fully participate in it. The tools included were;
Web hosting from Yahoo – $90 a year
A domain if you didn't have one. This cost about $10-15 a year
An email autoresponder from Getresponse, starting at $15 a month
Solo ads – the cost depended on how often you used it
The tools listed above are third party tools so when you joined them via Yoonla's links, they made commissions from it at no expense to you. You had to get these tools regardless of whether you had similar tools or not. This was unfortunately the only way it worked right then.
It cost you an average of $115 to set up your elite account.
As I mentioned earlier, Yoonla had a two tier commission structure. You got paid when someone joined their free program and when they upgraded to the elite level.
Every time you got a confirmed referral from the U.S., Canada, Great Britain, Australia, New Zealand and Ireland you were paid a commission of $4. The countries listed above were called tier 1 countries. Yoonla no longer pays commission for referral from tier 2 countries due to a lot of fraud.
When any of your free members upgraded to elite, yoonla payed you $40. Furthermore, every time your elite member upgraded to a higher level, you got a $35 commission.
So as a free member, you could make up to $79 per referral who made it to one of the premium memberships.
You were paid commission via PayPal or through wire transfer. You had to have a commission of at least $100 to be paid via PayPal and at least $ 500 to be paid via wire transfer.
Yoonla Academy (current version)
Yoonla has made many changes and have now lunched a new version of their basic program called Yoonla Academy. In this new version, Yoonla no longer offers a pay per lead commission program.
Currently, they have three levels, the yoonla academy level, the yoonla digital business mega starter level and the yoonla digital business mega premium level.
It is still free to join yoonla academy and yoonla mega starter. You need your name, email address and phone number to join this program.
You are granted access to the site after your email address is verified. You will be provided generic username and password info to log into the site.
Training for yoonla academy compresses of 20 videos ranging in length from 2-15 minutes. This training is basic and only worthwhile for a newbie.
On the members dashboard, Yoonla promotes several third party programs. Some of the most promoted ones are wix, Karta and clickmagick.
Wix
Wix is a website builder and hosting platform. They are known online for helping people build clean and beautiful websites with their drag and drop tool.
They offer various subscription options as shown in the table below. The recommended plan is the $14 a month plan as you get a lot with it for a beginning website.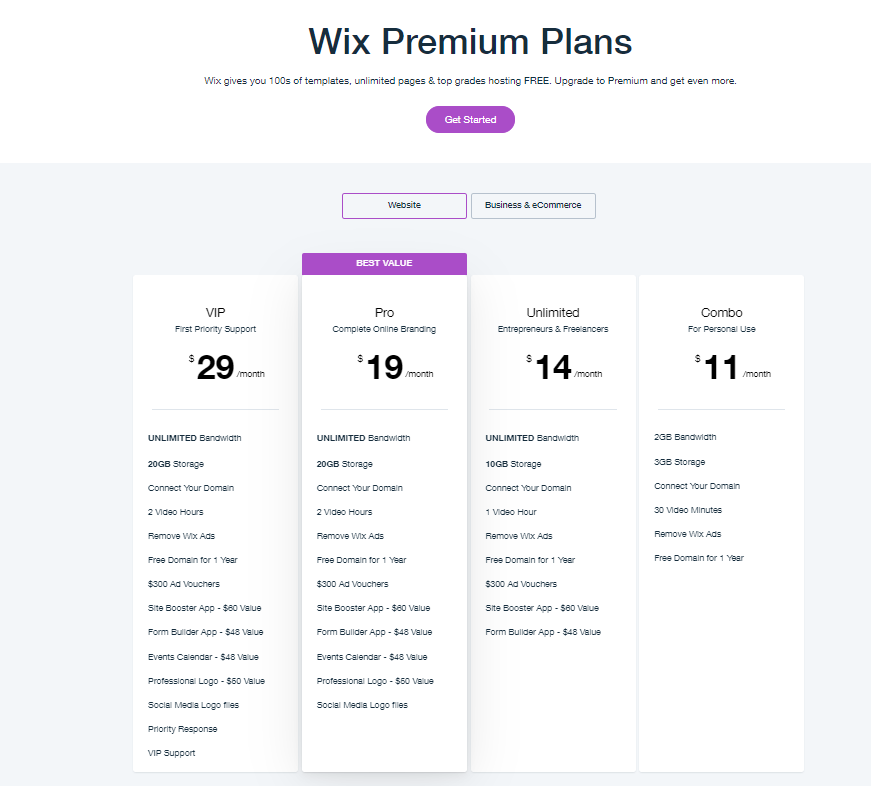 Kartra
Kartra, is a website that helps you build an email list, create campaigns and build sales funnels. They also help automate many other aspects of your business just like some customer relation management tools does. They provide analytics to help you understand your data and more. They offer a 14 day trail for $1 and after that period, it cost $99 a month.
Clickmagick
Finally, clickmagick is a platform where you can track and optimize your marketing. With this tool, you will know how much you convert and how you can improve your conversions. Clcikmagick has a 14 day free trial period and cost $12 a month for the starter plan (if paid annually).
The three tools I have described above are tools promoted by Yoonla and they make money through commissions when you subscribe to these tools. The idea here is for you to copy their method and promote these three tools to others and in turn make money too.
Yoonla Digital Business Mega starter
The main difference between the academy and the digital business mega starter is that the formal is done by you and the latter is done for you.
With the mega starter, you are taught in three video lessons how to set up your digital business and how to set up Kartra and how to become an affiliate with them.
You can expect to make good commission with Kartra. This is especially so as the commission is recurrent as long as your referral remain a member with this service.
Other yoonla affiliate partner programs are promoted at this level too.
Yoonla Digital Business Mega Premium
The digital business mega premium program cost $ 497 to join. It provides you with 6 revenue streams. According to Reno, you can earn up to $1995 in commission per referral. Upgrading to this product also upgrades your affiliate status to a re-seller.
Re-sellers get up to 80% commission for selling the mega premium program.
Pros
It is free to  join
You will learn something helpful
You can make money with it
Cons
This program has changed its name so much to make some think it maybe a scam.
The current training is very basic
Yoonla depends heavily on paid traffic methods for leads. This is very expensive, especially for a beginner.
Many Affiliates use misleading methods to get leads. Some promise bonuses which are not provided by the program
The done for you system is not the best as your funnel will be very similar to those of many others. No room for originality.
Bottom line
Yoonla academy is pretty new so it will be a while before we get all the information about it. Thus far, all the customer reviews I found were for the old version. People made good money with yoonla at the start but this was not sustainable as more and more people joined the platform.
Yoonla is not a scam but the techniques they teach is nothing new.