As a mom of four, it has always been my dream to work from home. Some years back, I was bent on achieving this dream so I went online to Google and googled on the topic. People always say google is your friend but guest what I found out? Google is everyone's friend, including those slimy icky scammers.
I am not blaming google for anything, just trying to let you know that scams are like a disease and even all mighty google is not immune!When you google on the topic of home jobs, chances are the results you see first are scams. It is sad and very annoying.
Almost falling prey to one of these schemes a few years ago, I decided that, I will yell from the top of my voice and warn the world every-time I came across one of those schemes. Now my dream is not only to work from home, it is also to help fellow parents like myself gain financial independence without falling for one of several online schemes.
Today, I will be writing a review about a company called onlinehomecareers.com.
What is online home careers?
Company agenda: Scam
Rating: Scam
Skill level required: None
Recommendation: None, scam
Website: www.onlinehomecareers.com
Online home careers is yet another scheme in the long list of online schemes. It is part of a bigger online scheme made up of several links that all take you to the same payment page.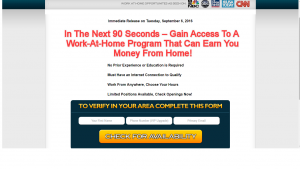 Once you get to the payment page (securecashathome.com), you learn how there are only limited positions available and how important it is for you to pay now to secure your position.
Hah, so much for limited positions. Come back to this site hours, days or even weeks later and it's the same story. You will think they would have ran out of positions by then but hey no.
The payment page you end up at is filled with the logos of renowned sites like CNN and all the likes to make people feel like they are on a legitimate site. The thing is, these logos are used without the permission of these companies.
When you try to leave the payment page, a pop up window appears asking you to stay and get an exclusive offer. At this point it is already very suspicious.
If you stay, you'll be taken to a page and in my case, it said there were 9 positions left in my area. They urge me to enroll fast and that I need to spend just 60 minutes a day to make a lot of money online.
Complains filed to the better business bureau 
9 complains have been filed against online home careers to BBB ( better business bureau). Most of the complains are about the illegitimate nature of the business done by this site. Many people paid for services that were never rendered.
This one of those complains,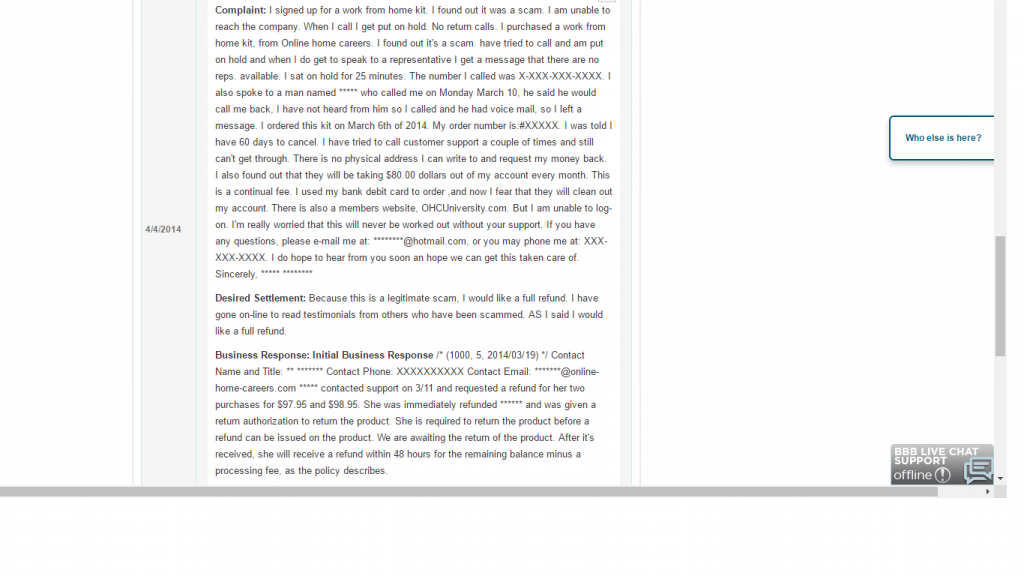 Nowadays, many legitimate work from home businesses offer free membership for sometime. This free membership is very important in that, it lets you investigate the site enough before making up your mind on whether to join or not.
A site like online home careers that expect you to pay up front to be a member or get a kit should always raise alarms. For every legitimate work from home business. there are three illegitimate ones. Just know that these sites are like the hydra its self.
There are a few work from home businesses that will help you achieve your dreams and become financially independent. Among these is wealthy affiliate-my # 1 recommendation for online business. Go ahead and check it out; take your time browsing through the site. The starter membership is free and does not expire. You will learn a lot and hopefully, you will be able to start your own online business.
If you have had any experience with online home career please let us know. Leave us a comment about your experiences with other scams. If you have any question, leave them with your comments and I will answer it to the best of my knowledge.
Please share this post and save many from becoming victims to this scam.
Cheers Denise