There is a gold mine online for the finding. Only those equipped with the right tools and information can partake in the plunder.
It could be disguised in a grandfather niche or keyword but without the right tools and knowledge, you won't be able to find it.
You want to know if a certain name will be lucrative for your business or not?, want to know what the target population for your niche is?, want to know which niche has plenty of traffic but not so much competition? Want to know which keywords you will rank for?
Well the information can be found in the see of information called the web.
State of the art tools can sieve through these noise and present you with the exact information you need to thrive online.
If you have been in this business for sometime, you know how important keyword research is for the success of any online marketing business.
Whether it is affiliate marketing, content marketing or E-commerce, keyword research is very important.
Many people owe their success online to the use of a reliable keyword tool known as Jaaxy.
This tool is the work of two Canadian entrepreneurs, Kyle and Carson. These two also happen to be the owners of the very successful online education platform known as Wealthy affiliate. 
The Jaaxy keyword tool is known to many as the world's most advanced keyword tool as it is packed with state of the art research features that can turn most if not any business into a successful one.
In my review, I will start by giving you the simplest explanation of all the features then I will talk about who Jaaxy is for, pros and cons then plans and payment. If you get bored, feel free to jump to the next topic.
Table of content
What are the various features of Jaaxy and how will it help me draw traffic to my business?
Jaaxy Keyword search

Alphabet Soup

Saved List

Search History

Search Analysis

Affiliate Programs

Brain storm

Training

Site rank
What is Jaaxy for?

Pros of using Jaaxy

Cons of Jaaxy

Bottom line



What are the various features of Jaaxy and how will it help me draw traffic to my business?
Among the many features of Jaaxy is the Keyword search, alphabet soup, the saved list, search history, search analysis, affiliate program, brainstorm, related search and site rank. I will explain them in order as listed.
Jaaxy Keyword search
When you log on to Jaaxy, you are taken to the keyword page. On this page, you can type in any keyword in the search box and enter to display a list of related keywords.
Each keyword that is displayed as a result is classified into;
Average monthly search volume (AVG)

Expected traffic if you rank first for that keyword (TRAFFIC)

Number of competing websites ranked in Google for that particular keyword (QSR)

Keyword quality indicator (KQI) green for great, yellow for OK and red for poor

SEO score based on traffic and competition that gives you an idea of how easy it will be to rank on Google for that keyword (the higher the number the better your chances of ranking. It ranges from 0 to 100)

Domains; which list an availability of domains related to that keyword. You can find exact match domains with this tool and it will help your site rank fast and better on google.

Related search which provided a list of popular keywords related to your search keyword. This is a great place to get ideas for additional keywords for your website.
Alphabet Soup
This is an amazing tool you can use to come up with hundreds of keywords related to the main keywords of your niche. With these keywords, you can write unlimited amounts of contents for your website.
This solves the problem of lack of topics to write on as right there in alphabet soup you will literally have hundreds if not thousands of keywords to choose from.
Lets say for example that you just built your site about outdoor grilling and your main keywords are "electric grills". When I typed this keyword into the alphabet soup search box, it came up with more than a dozen keywords for "electric grills+a". Below is a screen shot of my result for "electric grills+a".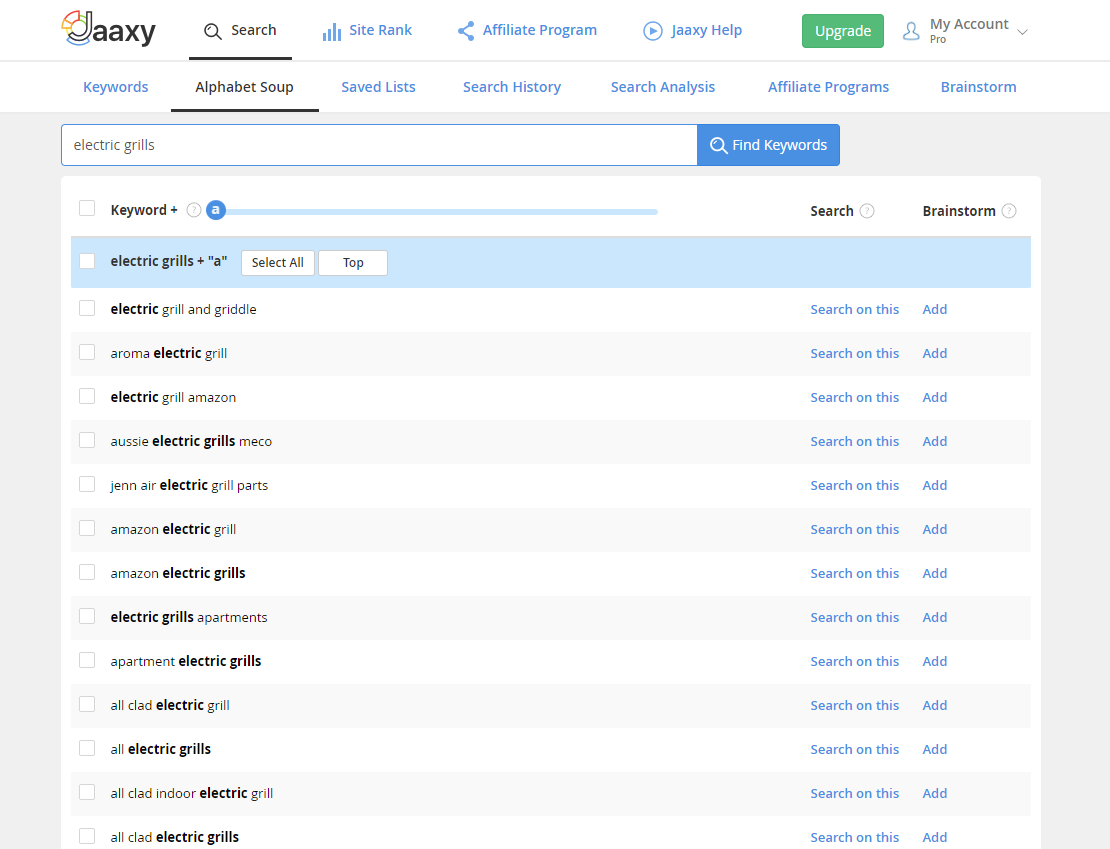 The list continues below the screen shot and this is just for one letter of the alphabet. It produces keywords for many of the other letters too. From the table above, you can see a search on this and an add option.
The search on this option lets you do a thorough keyword research on each keyword to find out AVG, traffic, QSR, KQI, SEO and Domain information. The add function adds the keyword to Brainstorm.
Saved List
As you carry out your keyword research, you have the option to save those keywords you have researched thoroughly on for future use. Keywords are save under specific names chosen by you.
You can classify your saved list under different names to help you organised. In the saved list section, keyword are listed in groups as you named them. You can extract from this page how much traffic a group of keywords can generate.
If you want to extract your keywords to save someplace more Convenient, you can do it as a CVS file or a text file.
You also have the option to view individual keywords in each group, delete keywords or rename the group as you see fit.
Search History
This page displays a list of previously searched keywords with information differentiating each keyword according to search types (keyword search or alphabet soup). It also tells you when you did the keyword search and whether it was a phrase search, an URL search or a search engine search.
With this information, you can extract keywords that you missed the first or second time around.
Search Analysis
This is one of my favorite tools because it lets me take a peak at the competition. For each keyword, you get a list of the top sites ranking for the keyword on Google, Bing or Yahoo.
You can analyse each ranking site in detail to see what they are doing right and then determine what you could do better. For example, when writing this review for the Jaaxy keyword tool, I did an analysis.
The table below shows you my results for google,
From the image above, you can see that I did a detailed analysis on the top site and from it I was able to determine information like word count, links on site, back links, alexa rank and adsense info.
With this information, I can try to write a review that will meet or surpass the quality of my competitor's and hopefully rank better for the keyword.
Affiliate Programs
This page is great for affiliate marketers as you can find and analyse various affiliate programs to determine which one will be best to join. The dashboard on this page has a search tab that pulls results from Commission junction, link share, click bank and digital river.
These four are huge affiliate networks with hundred of competing affiliate programs in each. The result of the search can be discriminated to each network and the results displayed are classified into affiliate program name, product website, commission, alexa rank and network.
With this information, you can find a lucrative affiliate program for almost all niches. You can learn about programs you would not have otherwise. Below is a page that shows you what a typical result list on this page looks like.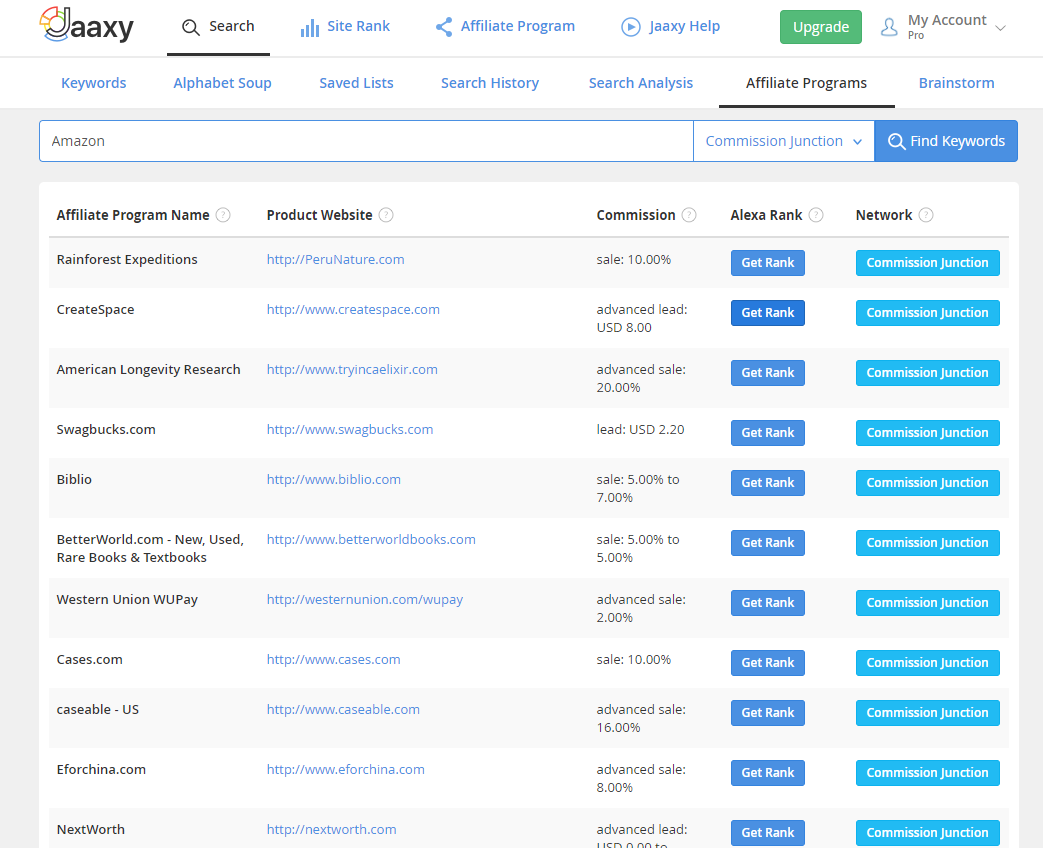 Brain storm
 This is a tool for when you have hit the writers block; Happens to me sometimes. This is the time when I play with the brain storm tool to come up with new keywords to target for my website. I do not use it so often but it is great to have.
Training 
Jaaxy offers training in written and video format to their members to help them understand the art of keyword research. I however do not use their training as I have an even better training with wealth affiliate which is another program they own.
With wealthy affiliate, I have a huge supply of lessons. Plus, as a wealthy affiliate member, I only pay half the membership price for Jaaxy which is great!
If you are new to this, I highly recommend you watch the training videos on Jaaxy. You can also check out wealthy affiliate for additional training if you want it.
Site Rank 
Site rank is a feature that lets you do a keyword research to find out how you are ranking for that keyword on Google, Bing and Yahoo.
When you use this tool, you do not only get your rank, you also get a list of other websites that rank on the same page as you. You can use this information to improve your ranking by tweaking a few things on your page.
The image below shows this site ranks  1st on Google for the keyword 'Robin Moore wah program'. I could have done this by searching manually on google for this keyword but it is a lot easier and more fun using the site rank tool.
This feature allows you to set "auto track" rankings for set time periods. This could be a great things for your morale if you start out ranking in page 3 for your keyword then gradually end up on 1st page.
What is Jaaxy for?
Jaaxy is great for;
Bringing unexploited high traffic niches to light

Finding low competition keywords with plenty of traffic that make it easy to get instant rankings

Learning how competitive a keyword is and how easy it will be to rank for it

Knowing how much traffic you can expect if you choose a particular keyword and rank for it

Brainstorming new niche and keyword ideas so you can never run out of topics to write on

Unveiling keyword metrics that will help you boost your SEO endeavors

Saving your keyword lists and organizing them by topic and groups

Helping you decide whether you should bet on a particular niche or not

Searching and buying new domain names and flipping them later

Knowing what's trending and popular on the web right now

Taking advantage of Google's Instant Alphabet Soup technique automatically

Discovering affiliate programs for your niche and keywords

Figuring it out if there's money to be made in a particular niche

Showing your site and posts rankings.
and much more. Jaaxy continues to add features and who knows what amazing features they will add this year.
Pros of using Jaaxy
Jaaxy has a free trial that allows for 30 free keyword searches.

Low Monthly Cost.  Jaaxy is very cheap compared to a lot of other tools like SEMrush (65+ month) and Buzzsumo ($100+ month).

User Interface.  The interface is very easy to use.  The color scheme is natural and anyone can understand them without explanation

Rank Tracker.  You can track your keywords with your Jaaxy subscription.  There is no need to purchase Rankin or any other WordPress plugin.

Training Videos.  Jaaxy comes with four training videos that show you exactly how to use the software. Wealthy affiliate members get more traning and a reduced monthly fee.

You do not have to download and install any software to run it.

it is mobile friendly
Cons of Jaaxy
Jaaxy is only free for 30 keyword searches.

It can be a little complicated for newbies but the video training helps make it easier

It's impossible to select whether you are targeting local or global searches (this can be important in some instances, especially with recent google updates)

There's no option to choose the language used by the searcher

You have to be connected to internet to use it

Some features will be useless to you
How much does jaaxy cost?
There are three levels of membership, basic, pro and enterprise
The basic membership is free and lets you do 30 free keyword searches
The pro membership is $49 a month and the enterprise membership is $99 a month. Below is a table that summarizes the features provided with the various plans.
Bottom line
If you are serious about making money online, you are going to need a plethora of tools at your disposal. Among these tools, a keyword research tool is very essential.
Jaaxy is a great keyword research tool that will help you make it online.
Cheers Denise