You are here today because you will like to learn more about wealthy affiliate and find out if it is good online marketing training site or not. I will give you my view to this so as to help you make an informed decision.
Before I begin, I will like to be sincere. I am a member of wealthy affiliate for a little more than two years now. I like it because it meets my needs; like the fact that I can host several websites with them without having to pay extra fees.
When I joined as a newbie, I needed a place to teach me how to start my first online business from scratch and they did a great job at it. Now, I donot need to do a lot of learning.
I stay with Wealthy Affiliate because for $49 a month ( $30 if payed yearly) I can build and host more than 25 website. At the moment, I have 3 websites hosted with them.
Wealthy affiliate has a lot to offer both newbies and experienced online marketers. Below, I will explain the benefits of joining wealthy affiliate. I will also give you a list of complains about Wealthy affiliate.
What does wealthy affiliate offer?
A huge community of successful members
When you join wealthy affiliate, you will be a member of one of the biggest community of successful online entrepreneurs. This means that you can easily find mentors to help you on your journey to online success.
Wealthy affiliate makes it easy for members to fraternize with live chat, question forums, comment platforms and feedback platforms.
The live chat option is available to premium members and if you find your self needing a quick answer to a question say in the middle of the night, you can go there for help.
There have been complaints that sometimes the answers received are not the best since some newbies not quite sure of what they are doing chip in too. However, for the most part, people find help there.
There is also the question forum where you can post a question and it will stay active in the forum until someone answers it satisfactorily. Many times, the owners Kyle and Carson will step in and help.
When you build your website as a newbie, you will need a lot of help from experienced members in order to make sure you are on the right track. You are entitled to one on one coaching as a premium member and you also have access to the site feedback platform where you can ask other members to visit your website and leave feedback.
The feedback platform is very helpful to me because I get great advise from members about what is working and what is not. When I write my content, I use it to ask members to read and tell me what they like and what they don't. This gives me a general idea about how to make it great for the public.
Finally, the comment platform works great to booster your content and help it rank better on Google. The more comments you get the more active your post is and the higher it will rank. I use this platform to ask members for comments and this usually helps my post rank fast.
Great educational material
When you join wealthy affiliate, you are directed to the entrepreneurial certification lessons.  There are 5 levels to this course and it teaches a lot you need to know to be successful at online marketing.
Free members have access to the first level of the course which includes 10 lessons. Topics include ; understanding how to make money online, choosing a niche, building your own niche business, setting up your website, getting ready for the search engines, creating content on your website and understanding keywords.
Click here to go to the home page of this training. 
Premium members get access to all five levels of training. The topics cover all major aspects of online marketing. In addition to these training are video tutorials and live video lessons.
More so, there are many individual tutorials and lessons written by members and you can assess them by searching on the search tab. Knowledge is power and with so much at your finger tips, you can do great things online.
Click here to see a sample of a typical lesson at wealthy affiliate. 
Website and hosting 
Starting an  online business is not easy. You need to learn the ropes then you need to buy a domain name and build a website which is going to be your platform for doing business.
Wealthy affiliate tries to make the whole process easier by putting all these steps on one site. So instead of going to say Go daddy to buy a domain name then transfer it to another site for hosting, you can just do it all at wealthy affiliate.
You can do a domain search and buy a very lucrative domain for about $10 – $13. After this, you can just click to build your site and in less than a minute, you will have a shinny new site with many themes to choose and personalize your website.
When you buy and host your website with wealthy affiliate, you get 24/7 customer service with site support and you get full redundancy for your website. By this , I mean your website will be backed up always. If something happens to your website, they will be able to rebuild it from their backup.
Each website comes with 24/7 security, SSL certificate (HTTPS), Site protect (spam blocker), site speed and an email package.
You can build a website for free as a starter member at wealthy affiliate.
A generous Affiliate program
After you join wealthy affiliate, you can decide to build your business in any niche you are interested in. If you are interested in promoting online marketing sites, then wealthy affiliate is a great place to start.
They have a very lucrative affiliate program that pays a commission of close to 50% for any referral that joins the program and upgrades to a premium membership.
You are under no obligation to join their affiliate program as many people have different reasons for joining wealthy affiliate. Most members never join their affiliate program and they are doing just fine.
If you choose to join their affiliate program, you will get another training called the affiliate bootcamp which is designed specifically to help you succeed as an affiliate.
Below is a table that summarizes Wealthy Affiliate's affiliate program,
 
An amazing keyword tool
Wealthy affiliate has a great keyword tool call Jaaxy. With this tool, you can carry out a keyword research to see which niches are lucrative and not too competitive. Information like this will help you with the decision of which niche to start your business in.
I use the keyword tool to find keywords for my content. With this tool, I can determine what people are looking for online then I can write about those things to bring traffic to my website. More traffic generally equals to money when the right people are targeted.
The jaaxy keyword tool has a free membership that allows for 30 free keyword research. After that you need to upgrade to premium to carry out more research. There are two levels of premium membership; the pro and the enterprise memberships.
You can move up, down or cancel your membership at anytime. Type a keyword in the box below and see for yourself.
What to expect after you join Wealthy affiliate
There are four steps towards making money on Wealthy affiliate. After you join, you are thought how to find a niche. A niche is a specific section of the market; like hiking gears or best dog foods. It is small and specific but big enough to generate traffic and income. Learn more about niche picking here.
After you find your niche, you are thought how to find and buy a domain name for your niche. The domain name will be something like 'hikinggear.com'. This is the address to your website. Learn more about domain names and building websites here.
After you find and register your domain name, you are thought how to build and personalize your website to draw traffic and subsequently income. There are many ways to monetize your website and you will learn all about them on wealthy affiliate. Click here to join the trial membership.
The table below summarizes what Wealthy affiliate is all about nicely,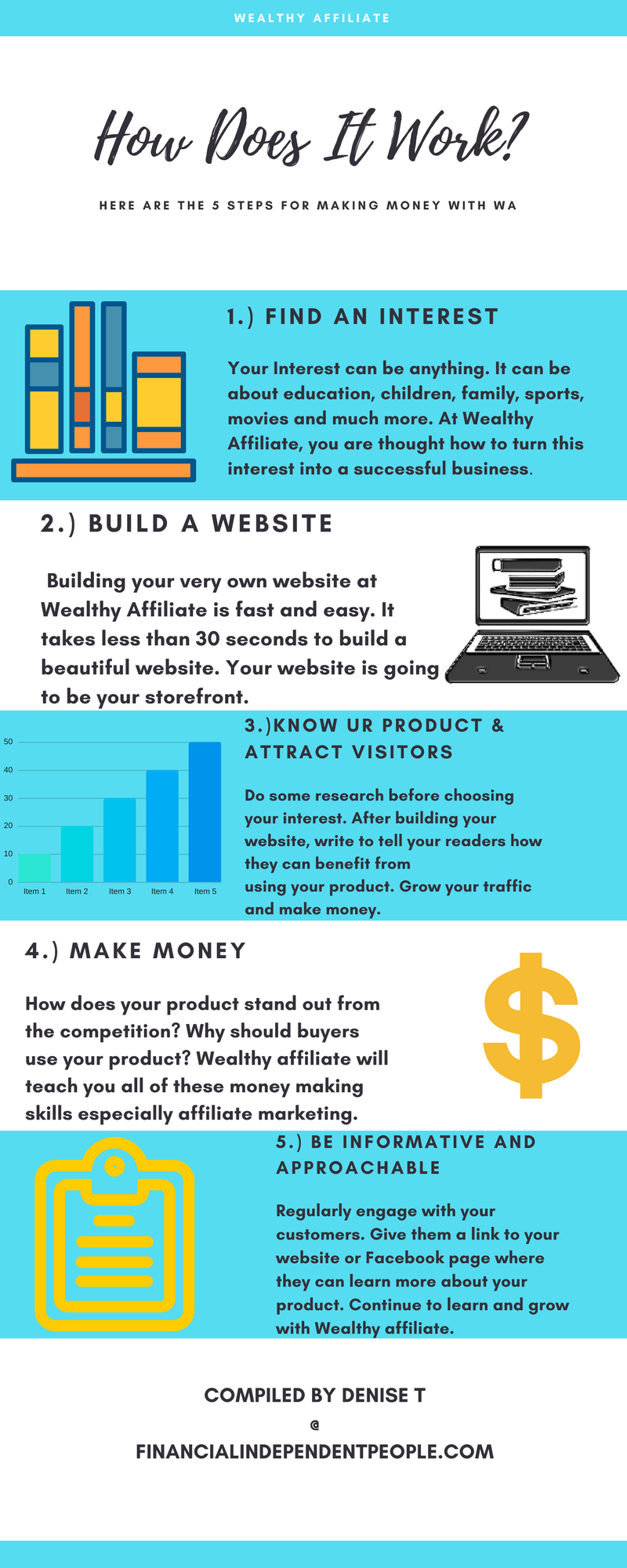 Is wealthy affiliate for everyone?
I do not think Wealthy affiliate is for everyone simply because nothing is the best fit for all. Wealthy affiliate is for people who are hard workers, self driven and determined to succeed.
Even though many people will try to make you think that the online world is an easy gold mine, it is not. Without the right knowledge and a good amount of effort, you won't be successful online.
I do not want to sound bleak but it is better you know from the start that you can make big money online only if you work smart and hard.
Are there any bad/negative reviews or complaints about wealthy affiliate?
Absolutely, there are bad/negative reviews of Wealthy affiliate and there are many complaints too. Below is my list and how I address them.
Wealthy Affiliate charges a monthly fee of $49 to its premium members. This amount provides members with a plethora of features like lessons (written and video), hosting for up to 50 website, access to a domain purchase platform, website builder platform, content platform, comment platform, feedback platform and more.
Many people go online looking for a way to make money when they are broke so many cannot afford to pay this monthly fee so wealthy affiliate allows these members to join for free until they can afford to upgrade to premium monthly or yearly.
With this free membership, you have complete access to the program for the  1st seven days then you are limited to the free features only.
Some members make no money
Another complain about Wealthy affiliate is the fact that many members don't make money. This is true with any business online. There is never going to be a 100% success rate.
The reason some people do so well while others don't is simply in the kind of business people choose to run and how hard they work and how dedicated they are.
There are many lucrative businesses you can start with. The key is to choose a niche with little competition and a good amount of traffic to begin with.
Wealthy affiliate will not choose your business type for you. They only give you the lessons and it is up to you to apply them.
There is a lot of hype at wealthy affiliate
I agree with this complain. Some members at wealthy affiliate makes it sound like a fairy tale. When I joined, I learned from a member that it was only going to take me weeks to start making money. Four months later, I had only made a couple of dollars and I was frustrated.
What this member failed to tell me was that as a new member with little or no idea about online marketing, it could take up to a year before I made good money. The learning curve is huge and until you learn what you need to know, you will not make money.
Think of it as going to college, you don't start making money until you graduate. When you join wealthy affiliate, the owners insist that you take the certification courses and apply them as you learn because you will need this knowledge to run your business successfully.
Wealthy Affiliate is not a job
Many people confuse wealthy affiliate for a job but it is not. A job is something you do under a boss for a certain pay at the end of a week or two.
Wealthy affiliate is a business opportunity. By this, I mean it is a chance for you to start a business of your own online. Pretend you wanted to start a retail business but instead of finding a physical structure and buying supplies to start, you go online instead an build a store.
This is what you learn to do at Wealthy affiliate. Whether you make money or not is subjective; unlike a job where you get payed every so many weeks.
Wealthy affiliate can be overwhelming for newbies 
This is true for any if not all online businesses. When you star, there is so much to learn and apply. You do things and undo them several times before getting them right.
Then you need to socialize, especially with experienced entrepreneurs so you can learn from them and get help from them as much as possible.
The process of setting up your first business is stressful for many, especially those who are in a hurry to make money. You need to register your domain name, then build your website, then register it on google and several search engines.
After that, you need to write content, publish it and advertise on a variety of social media.
However,as you get into your routine, you soon learn to relax and enjoy it all.
As I mentioned earlier, you choose your niche to start business in; wealthy affiliate does not do it for you.
When I started, I was so excited to build my first website and within weeks of joining, that dream came true but it was a mistake. Why? Because I chose the wrong niche to start in.
You see, your success is dependent on the niche you choose to go into. If you choose a niche with extremely high competition as I did, you will have a hard time making money.
If you choose your niche right, you will be able to work less but make more faster.
I learned a lot from my mistake but I felt like wealthy affiliate should have done more in guiding me towards a lucrative niche since I was a premium member.
I however blame myself too because as an introvert, I asked little or no questions. If I had been asking questions like the other members, it will have saved me a lot of wasted time and effort.
Wealthy affiliate has since then made some updates to their training. Its better now.
Wealthy Affiliate's no spam policy
I personally do not have a problem with this policy but some members do; especially those who have been penalized. The owners frown on spamming and encourage people to only blog about things that will benefit members.
To enforce this rule, they have a spam button and if your Wealthy affiliate blog gets 10 spam reports, you will loose your writing privileges for sometime. Many people feel they have been negatively targeted by other members who just plain hate them.
Some changes have been made at WA so maybe things will be better and only real spammers will have their writing privileges revoked.
Wealthy Affiliate is a scam
I left this for last because of all the complains I have heard about wealthy affiliate, this one is an outright lie. This complain is usually used by their competition in order to draw people to them and it is outright sad.
Wealthy Affiliate has been so successful that it has left most if not all of the competition in the dust. They are the cheapest but yet offer the most value for the money.
At wealthy affiliate, what you see is what you get. There are no hidden charges and there are no up sells. They have an aggressive advertising and business model but that is not a crime.
The online world is very competitive and if you do not fight as hell to keep your head above water, you will drown.
Bottom line
Wealthy affiliate is among the best in online education platforms. Their competition include Affilorama and many others. Try to visit these other platforms and then visit wealthy affiliate and see for yourself which one is better for you. Click here to join the wealthy affiliate trial membership.
Cheers Denise