Company: Work at home university (WAH)
Product type: Scam
Cost: $ 97
Rating: scam scam and scam
Site: WAHuniversity.com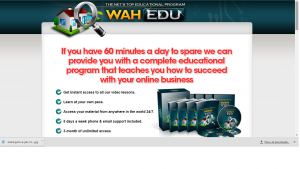 WAH university is an online education website that claims that they can provide an educational program to you for 60 minutes a day for a period of three months which will make you a successful business person.
According to them, this program is going to teach you how to build a successful business online during that time frame for a one time payment of $ 97.
Work at home university basically charges you $ 97 up front for lessons that you can get online for free. The lessons they offer promises to give you information on how and where to find businesses willing to pay you to promote their product.
This kind of business is called affiliate marketing and what these companies pay is called a commission. You can get this information free online or from many of my post on this topic.
Businesses like Amazon, E bay and many others both big and small will pay a commission for your referrals. You can follow the links below to learn more about this for free!
What is affiliate marketing and how does it work?
What are the top affiliate networks?
WAH university also promise the lessons will teach you how to get in the proper mindset for online business. This information you can also get online for free. You can check out my # 1 recommendation for online marketing and you will learn a lot about business mindset for free.
They also go farther to tell you that they will teach you about links and CPA. This is all big talks that will make some people fall for their scam. CPA is part of affiliate marketing and is basically Cost per action (CPA). This is money you get paid when you refer someone to a merchant's site and this person takes an action. In this case, an action can be clicking on an ad, buying a product, enrolling to a program, impressions and much more.
For more on this topic, follow the link below,
What are the top affiliate networks?
So if you look closely and type the lessons topic by topic as they are listed on the site, you will see that they make people pay for something they can get online for free. In a nutshell, they don'y teach you anything new and worth paying for.
Topics like building a website, web hosting, customizing your site, web blog and post are all going to be covered on this site. I have already written a summary on these topics and you can read them by following the link below;
How to get started with an online business
Build and maintain a website 
$97 is not too much to pay for a program. The problem is, once you register with them, the up sells begin. At every turn, you will have to pay more to get something they recommend as very vital for your success.
Many legitimate online businesses that teach people how to build a successful business online offer free membership. This free membership gives you time to get a feel of the site before making up your mind to upgrade or not.
One of such sites is wealthy affiliate,  my #1 recommendation for online marketing. Their free membership does not expire. On top of the starter lessons, you can also build, host and customize two websites for free.
Do not waste your hard earned money on a scam. If you are here because you really want to learn how to run a successful business, follow the link below
Please leave a comment and remember to share this post. Sharing is caring,
Cheers Denise