How can I earn financial freedom online? This is the million dollar question I asked myself as I became an adult. Every time I found my self struggling to pay bills and provide a good life for my family, I asked this question.
Every year during the holidays, especially during Christmas, I asked this question. Every time I felt underappreciated at work I asked this question because I felt stuck and wanted a way out so badly.
Then I found out another baby was on the way! Jeez, what is it with poor people and babies? I asked myself. I mean, I already felt like I was not giving my older kids the kind of life they deserved and now another baby! I was determine to find another way to generate money, be my own boss and spend more time at home with my kids.
Everyone says google is your friend, so I went to google with my question and found so many answers that it made my head spin. I spent days trying to filter through the fluff, schemes and scams. There were way too many quick money schemes and I almost fell for a few of them.
Upon doing my research on some of these quick money schemes, I stumbled on to a post that talked about a premium program that teaches it's members how to make money online. I felt this was too good to be true but I was curious so I checked it out with the plan to bail out if there was any mention of the words "credit card".
So, my journey to financial independence began. After signing up with just my name, email and password (no credit card info phew), I was introduced to a world of online marketing.
To think that I had a computer and used it for year not knowing about this whole other online world was sadly amazing. I learned in less that a week how to get my first free domain name and set up my first free site rubix website.
After a while, I upgraded my website to a premium website. My very first website was tatihsportstrollers.com. This is where I wrote reviews and recommendations bout strollers and other baby products.
This was an idea I would have never gotten on my own. I was passionate about finding ways to liberate parents from the confines of their homes, and release them outdoors.
I always thought that if many parents knew about sport strollers, they won't complain about not getting enough exercise. They will be able to take their baby with them as they exercise.
I discussed the idea with a few friends but I wished to reach a bigger audiences and that is just what I did with my first website (You can check out my about page by clicking here. I was so excited on that faithful day)
The website I joined that taught me all I know about online marketing by the way is wealthy affiliate (if you've been wondering).
It is my #1 recommendation to anyone who is serious about making money online. Let me give you some sort of a road map on how to earn financial freedom online.
There are many ways to earn financial freedom online but all of them almost always start with owning your own website. With a site of your own, you have more authority and control over many aspects of your business.
Building a website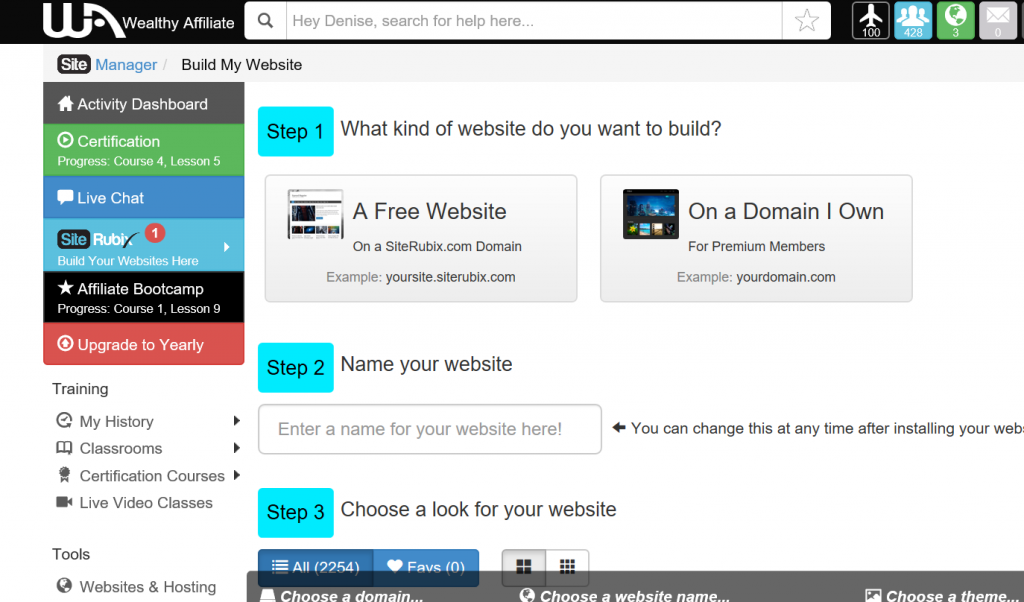 At wealthy affiliate, you can use the free starter membership to build up to two websites for free. The website building platform has dummy proof instructions that will help you build your website for free in just a matter of minute.
Before building your website,  you will have to choose a domain name for your site. A domain name is like an address for your site like 'CNN.com'.
Your domain name will tell people what your site is all about(niche). A niche, as it relates to internet marketing is a small specific portion of a market.
Let's say you are passionate about higher education for people with special needs. The market in this case is education and your niche is about higher education for people with special needs.
So, once you have figured out what your niche is, you need to choose a domain name that clearly represents your niche.
It usually takes careful consideration and time to find a good and available domain name. Once you find a domain name, you can set off to build your site with the help of wealthy affiliate's site builder platform.
Now you have your very own website but how do you go about making money with it?
Ways to generate money with your website
There are many ways to use your website to make money but before you do that you will need to drive traffic to your website and the first step is writing compelling post on your website.
It is through these post that you will tell people what your website is all about. They best post are those that solve a problem in your niche.
Post that provide value to your audience will lead to more traffic and eventually passive income. You can also use word of mouth and social media to advertise your website.
Make money with your skills
Are you a very skillful person, good at art and craft? If yes then you can definitely make money online with those skills.
There are websites like esty.com that give people with skills in art and craft the opportunity to display their products to a market of thousands of people looking for unique products.
Esty allows you to link your website to your personal esty store where you can display your products (read my review of Esty for more information) .
If you don't want to join esty, you could display your products on your own website and advertise your it via social media, google, bing and word of mouth.
Make money referring products
Another way to make money online is to help sell other people's products. This method is very popular and is called affiliate marketing.
Many companies pay people to refer clients to buy their products. This payment is called a commission and is usually a percentage of the sale price of the product you refer.
For example, amazon has a ton of products online, some of which are good and others not so good. Let's just say that you are interested in sport strollers as I am and you found this stroller on amazon that you think is great. You write a review about it, telling people about all the amazing features of this stroller and where to buy it.
Amazon gives you a link to put on your review page and every time someone reads your review, clicks on the link and buys the product, you get paid a fraction of the sales as commission (everyone is happy).
Making money as an affiliate is great because you do not have to incur any cost in product manufacturing, packaging, shipping and more. You only put in your time to write product reviews and get paid when people buy those products.
Make money selling your eBooks on amazon
Amazon has a huge market for eBooks with their kindle program. You can use this kindle program to write and sell your eBook at a very low starting cost for you.
If for example, you are great at teaching people how to do certain things, you can write an instructional book and sell on amazon. The possibilities are endless.
Make money Dropshipping 
This is a way of making money by selling products online without actually keeping an inventory stock. In this kind of eCommerce, you do not have to deal with shipping and handling, all you have to do is receive an order from a client then place that order with a wholesale merchant who then fulfills it and have it shipped straight to your client. For more information click here
The wealthy affiliate website has an affiliate program that works just like the amazon affiliate program in the example I gave above.
As a free or premium member, you can make money by referring people who want to learn how to make money online to Wealthy affiliate. If these people go to the WA website and decide to join, you get paid commission. WA has one of the most generous commissions.
WA has a wealth of lessons, videos and live classes they give their members to help them build successful online businesses.
They have helped thousands of entrepreneurs realize their dreams and they can help you too. Visit their site and join for free to begin your training!
I hope this post was helpful. Please leave your questions and comments below. Thanks!