Are you thinking about launching a business in the e-commerce sector for a while already? Selling products on the Internet is relatively easy these days. You don't need to invest in a brick-and-mortar store, warehouse, and other aspects that usually generate a lot of costs.
However, you will have to create a website. Or, better yet, use a marketplace and forget about creating that website. Shopify is the legit kind of online platform that allows anyone to create an online store, without the need to go through the ordeals of developing and launching a website. Let us take a closer look at what it offers and see just how well Shopify can help you get your own e-commerce business.
What is Shopify?
When Shopify was created, back in 2004, the idea was to offer an e-commerce platform that is easy to use and gives everyone the chance to sell products fast and easy. In other words, it was designed to turn into a large marketplace, where sellers can have their online stores with minimum efforts and buyers get the chance to find a wide array of products in one single place.
The best part about using Shopify is that you can sell both digital and physical products, so it is entirely up to you what you will sell in your shop. The platform will also give you everything you need to create your store fast and easy, so you can get to the selling part as soon as possible. There's a wide range of templates that will help you create your own brand and other features destined to make your Shopify store look unique.
There is absolutely no need to have any experience or knowledge in the web development sector. Shopify was made to be used like any other app out there, so you will quickly get your way around it. All you need is the will to make things happen and start your online store right away. Of course, this doesn't mean that the platform won't be capable of satisfying the needs and requirements of those with some web development experience. Those that are familiar with CSS and HTML will love the control they will obtain over their online store and the degree of customization they will be able to perform.
So, if you want to find a quick solution that will allow you to set up an online store in no time, Shopify is the answer. At the same time, it is a great solution for those that wish to use coding for more complex online stores. Currently, it has more than 600,000 shops and over 1 million users that are active on the platform. If you ask us, this matters because it shows how many people trust the platform and its ability to help sustain profitable and successful online stores.
Prices and features on Shopify
As you can tell, you will have to pay some fees if you want to sell on Shopify. The price you pay will depend on the type of plan you choose. Shopify has several plans available, depending on how much you think you will manage to sell or the amount of effort you want to invest in your online store. Thus, you can find the following options:
$9/month – for the "Shopify Lite" plan;
$29/month – for the "Basic Shopify" plan;
$79/month – for the "Shopify" plan;
$299/month – for the "Advanced Shopify" plan;
The "Shopify Plus" plan, which offers negotiable fees, typically around $2000/month.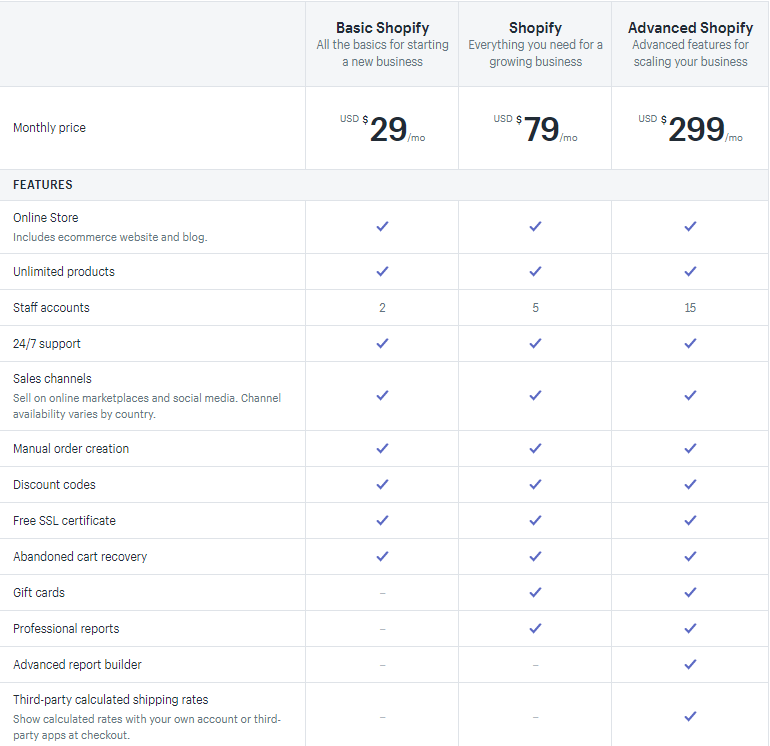 So, even if you don't have a generous budget but you have products that are good for selling online, you can always opt for the $9 plan. It is worth knowing that the number of products that can be sold with this plan is unlimited. Thus, it is very easy to get started with minimum costs.
But, there are a few inconveniences if you go for the cheapest plan available. For instance, you won't have a real online store. More precisely, you will be able to sell your products by using your page on Facebook, use the tools provided by Shopify to manage your inventory or sell product from a physical location, or add a special Button from Shopify for an already existent online store.
For everyone wondering how the "Shopify Button" works, it is worth mentioning that it is a button that sends customers to your account on Shopify. It will also give you the chance to present your product offer on another website, for increased exposure.
Except for the "Lite" plan, all the other plans will allow you to create a real online shop, with all the regular functionalities and features, on Shopify. Of course, there are certain differences between plans, something we will talk about shortly. Finally, the Shopify Plus plan is actually a solution offered to enterprises, companies that have a considerable activity in this sector, which need a bit more attention than the average seller.
The differences between Shopify's available plans for sellers
Considering that there are quite some differences between Shopify's available plans, you probably wonder what sets these plans apart. If you choose to pay the $79 plan each month, instead of the $29 plan, what will you get for your money? Also, what makes the $79 plan better than the $29 plan? Read below and find all about it and more.
If you'd like to get detailed, professional-looking reports of your activity as a seller on Shopify, this particular feature is only available for the $79 plan and higher.
An advanced builder for performance reports
Shopify can give you advanced tools required to come up with highly detailed reports concerning your e-commerce activity. However, these tools are available only for the Advanced and Plus plans, as they are created for those that have businesses in this activity niche for a while already.
In case you want to give your clients the chance to opt for gift cards, you can do so only if you choose the $79 plan or those that cost more. Of course, this is something you should consider as you advance with your business and would like to expand your offer, so it's not something you should give right from the start.
Carrier shipping available in real time
For this particular feature, you will have to be willing to pay the price for the Advanced Shopify plan, as it's the only one offering it.
Separate accounts for your staff members
In case you have a team formed out of several people, you may be interested in creating separate accounts for each of them. The accounts will give your staff members a variety of permissions within the online store, depending on the role they have to play. However, the number of staff accounts is limited by the plan you choose to use. So, the Basic plan will allow you to create 2 accounts, the Shopify plan will give you the chance to create 5 accounts, and the Advanced plan will allow a number of 15 staff accounts.
The point of sale feature
For this particular feature, you will have to opt for the Shopify plan, at least, if not a more expensive plan. For plans cheaper than the Shopify plan, this functionality will not be available.
When it comes to paying for the selected plan, you should know that you don't have to pay on a monthly basis. Shopify offers the chance to pay one single fee per year, offering you a 10% discount, or every 2 years, an option for which you will get a 20% discount.
The only disadvantage is the rather limited availability of features when it comes to the more basic plans. After all, a Gift Card, for example, is not such a complex feature and could help newbies get more clients and expand their businesses faster. So, it is difficult to understand why this feature is not available in the more affordable plans. This is probably one of the few observations that can be made in this sector.
Fees applicable to transactions and payments
Besides paying the fee for the seller plan you chose,  there are some other fees you may have to pay, related to transactions and payments. Of course, they are not applicable in all cases, so you should know when you will be charged with a fee for a transaction and when you'll have no fees to pay.
Fees are not applied when you use Shopify Payments. This is the platform's own payment system and it is built-in. However, the system is not available for all countries. But, for the countries and clients, you can apply it, Shopify Payments will generate no transaction fees. So, don't forget to check the list of countries for which Shopify Payments are available.
But, since not every user will be able to use Shopify Payments and will prefer utilizing a credit card, there are fees to bear in mind. Yes, these fees will be on your side as well, so you need to be aware of these costs. The fee rates for credit cards issued in the US range between 2.4% and 2.9%. An extra 30 cents can be added in the case of some of Shopify's plans. In the case of credit cards issued in other countries, like the UK for example, the rates will be more accessible. Taking the UK, if we mentioned it, the rates applied in this case will range between 1.5% and 2.2%.
It is worth mentioning that these fees also depend on the type of plan you are using. As it is expected, the lowest rates for transaction fees are available for the plans that cost the most. So, the previous rates were just examples, as the final rates you will pay will be connected to the plan you will select for your seller activity on Shopify.
Shopify also gives you the chance to set up a payment gateway, with the help of third-party gateways. But, for this, you will have to do some configuration on your account, so if you don't know how to do it, you'll need the assistance of an expert. The fee rates, in this case, will range between 0.5% and 2%, again depending on the plan you are using.
Pros
The "Lite" plan provided by Shopify, which costs only $9 per month is one of the cheapest ways that allows you to start selling products online;
When using Shopify Payment system, you won't have to pay any fees for the transactions made through this system. So it's a good thing the platform has its own system for payments;
The user interface has a clean design and makes the platform very easy to use;
There is a Buy Button that allows you to add the Shopify option to any website you may have or use;
There is a wide range of free and ready-to-use templates you can use to set your store fast and easy;
You will even have a built-in blog feature if you're interested in using one;
There are mobile apps, for iOS and Android, which will allow you to control your online store on the go;
There is a 2-week trial version if you want to check it out before investing any money in it.
Cons
There are some features that will require installing an app before they become available. Unfortunately, some of these functionalities are key for an online store;
The possibility to get a professional report, which is useful for beginners as well, is available only in the case of more expensive plans;
While the Shopify Payment system is fee-free, it is available only for a limited number of countries;
The most affordable plan, of only $9, will not allow you to create a shop that is fully functional, as it will only allow you to sell products with the help of Shopify tools;
Conclusion
In spite of the downsides Shopify has, it is still a very good option to exploit if you're looking to sell products online. It will give you all the support you need to create an online store and, if you're determined to make things work, you will soon be able to upgrade your Shopify account and get more features. There's a reason there are so many shops available on Shopify and so many users that successfully sell with this platform. Most certainly they found a way to deal with the disadvantages and use Shopify to grow their businesses. Also, you get the chance to try Shopify for 2 weeks free of charge, so it is easy to decide whether this app will work for you or not