A review of Vipkid
Teaching children new languages could be a very rewarding experience for teachers and students alike. It could be a great source of income, especially for stay at home parents and other people who can't work out of the home.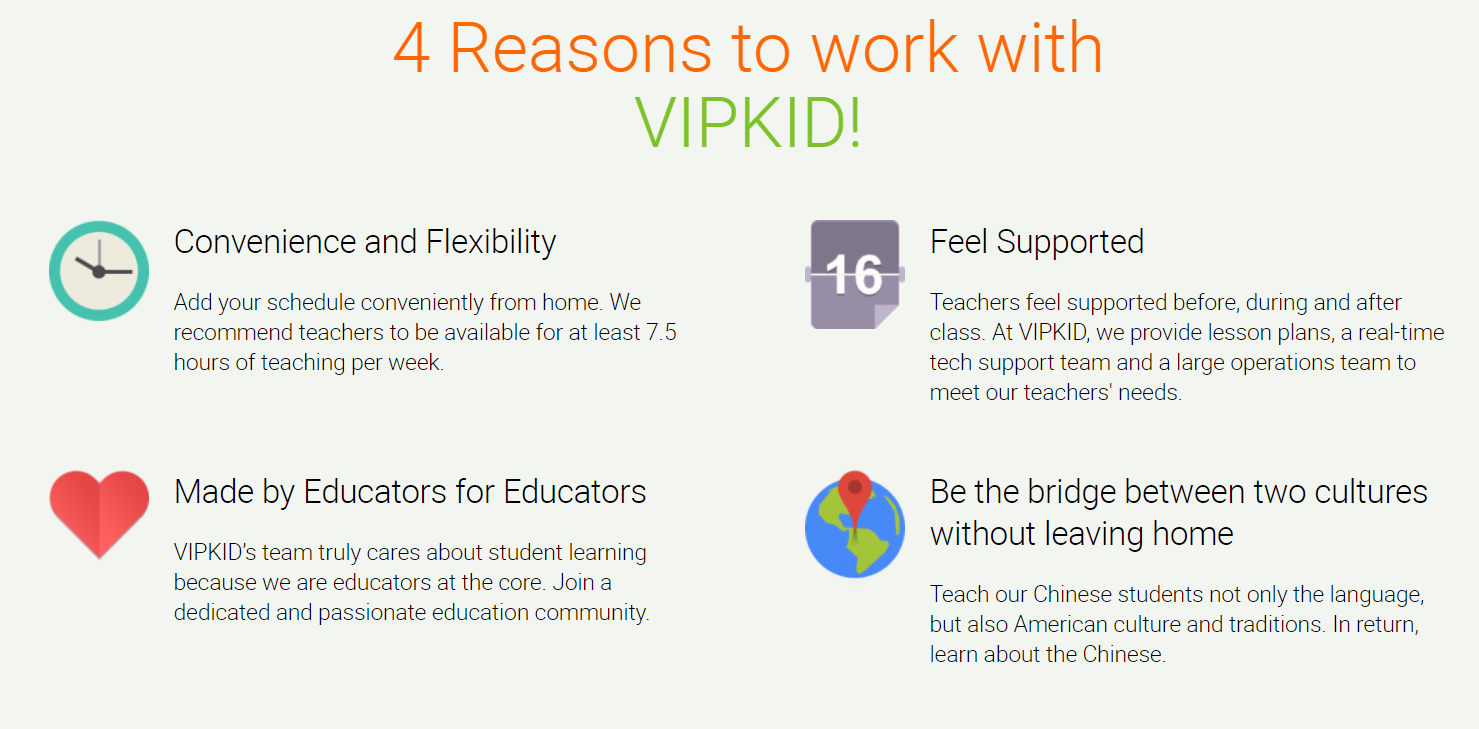 In this article, I am going to review VipKid, an online language education platform which promise to pay you $18 to $22 an hour to teach a new language to a child from across the world. So, read on!
What exactly is VIPKID?
VIPKID is a popular educational platform online which teaches ESL (English as a Second Language) to kids between the age of four and twelve. Founded by Jessie Chen, Cindy Mi, Forest Huo, as well as Victor Zhang, the company stared in Beijing, China in year 2013.
VIPKID's curriculums meet up the Common Core Standards requisite in the US. VIPKID lists many awards on its business website. Investors in this program include, Innovation Works, Northern Light Venture, H Capital, Matrix Partners and Sequoia Capital.
VIPKID Online ESL Teacher Jobs 
VIPKID offers the opportunity for many qualified people to teach their enrolled students. They review the curriculum at least six to twelve hours prior to every class, which takes half an hour. During this period, they present the materials for twenty five minutes, test out the learners and then leave comment after a while.
Teachers submit their availability schedule to VIPKID which in turn offers a schedule each week of lessons booked by learners. VIPKID has both trial and regular students.
VIPKID Requirements for employment
In order to qualify, teachers must be able to speak and write English fluently and as much as possible should a bachelor's degree holder. Also they should have experience dealing with kids four to twelve years old and be accessible to lecture at least seven hours a week.
They will require having a laptop or desktop computer with microphone and webcam, fast internet connection and either Firefox or chroming browser. If you don't meet these criterion, then you are not qualified to be a VIPKID teacher.
Vipkid class schedules
The class schedule is based on the daytime in Beijing that is a thirteen hour time difference from the US. Peak hours usually fall at 6 and 10 in the evening from Monday through Friday and 9 and 10 in the evening during weekends. Weekday hours renders from 5 to 9 AM in the US.
Teachers should commit to working 7 hours a week and they have also the flexibility to work as long as they want most essentially during peak times. It is possible to work further than peak hours, however very unlikely because of time difference between US and China.
Vipkid Salary
VIPKID provides a $7 to $9 base pay for every 30 minute class plus bonus incentives. On the other hand, it all depends on your performance on demo class. If you teach over forty five classes in a single pay period, you'll get a $1 bonus for every class.
You will also get a $1 attendance incentive for every lesson for appearing to teach although a student does not show up to go to the class. You get payments by means of direct bank deposit between the tenth and the fifteenth of every month.
How to Get Started at Vipkid
To get started, qualified individual must submit an application online and resume for consideration. It is worthwhile to consider that there's no detail on how long your application takes to be accepted for the interview.
Then VIPKID will schedule an interview through Skype and ask applicants to complete a half hour demo class. Then an applicant will watch the training video on VIPKID subjects, standards as well as technology. The last step is joining in a mock lesson with the VIPKID teachers. When these steps are accomplished, applicant signs a contract for six months time-frame. This contract can be renewed.
If you don't do well on any of these steps, you will not be considered for hire.
Pros of working for vipkid
Some Flexibility
Flexibility is one good reason why many people apply at VIPKID. Teachers can work whenever he or she wants, what day he or she pleases and anywhere he or she wants. It is a perfect career which work based on your schedule.
Chance for Advancement
After the completion of the first contract, the company often offer you a raise and the chance to be a mentor in a mock class. So with this company, there are lots of opportunities for developments and advancements.
Ongoing Workshops and Training
VIPKID is continuously offering additional assessments, trainings, workshops and feedback to assist teachers enhance the quality of their teaching. Through this, they constantly enhance their teachers as well as the level of learning the students get.
Cons of working for vipkid
Poor Support System: Previous independent contractors state that it is so hard to ask support from VIPKID most especially if you have concerns or questions.  They do not always provide response fast.
Class Interruptions
There are also complaints on tech support agents aimlessly interrupting the classes with feedback.
No Tablet or Smartphone
When you go through VIPKID FAQ section, this online platform cannot be accessed by your tablet or smartphone. So, if you don't have a desktop or a laptop, this is not perfect for you.
Not Flexible
Teachers should submit hours of accessibility to teach a month ahead of time. It is hard to stop classes when you have an urgent emergency. VIPKID might fire or penalize you once you withdraw the class. If you want flexibility then you may need to find another platform.
Do Not Quit your Regular Job
You'll just get half the base pay when you have technical complexities. It could take one month to obtain a considerable number of booked lessons. There's no assurance that teachers will get bookings from learners. You may be better off checking other platforms if you are looking for a better business opportunity at home.
Conclusion
If you are looking for a home based job that offers flexibility and a full-time income, VIPKID is not the best option as shown in this review. Through this program you will be given a chance to help kids enhance their skills in English language but you will not get enough jobs to make a living out of.
If you are interested in learning about another way to make money online, check out my #1 recommendation and find out how.
Cheers Denise