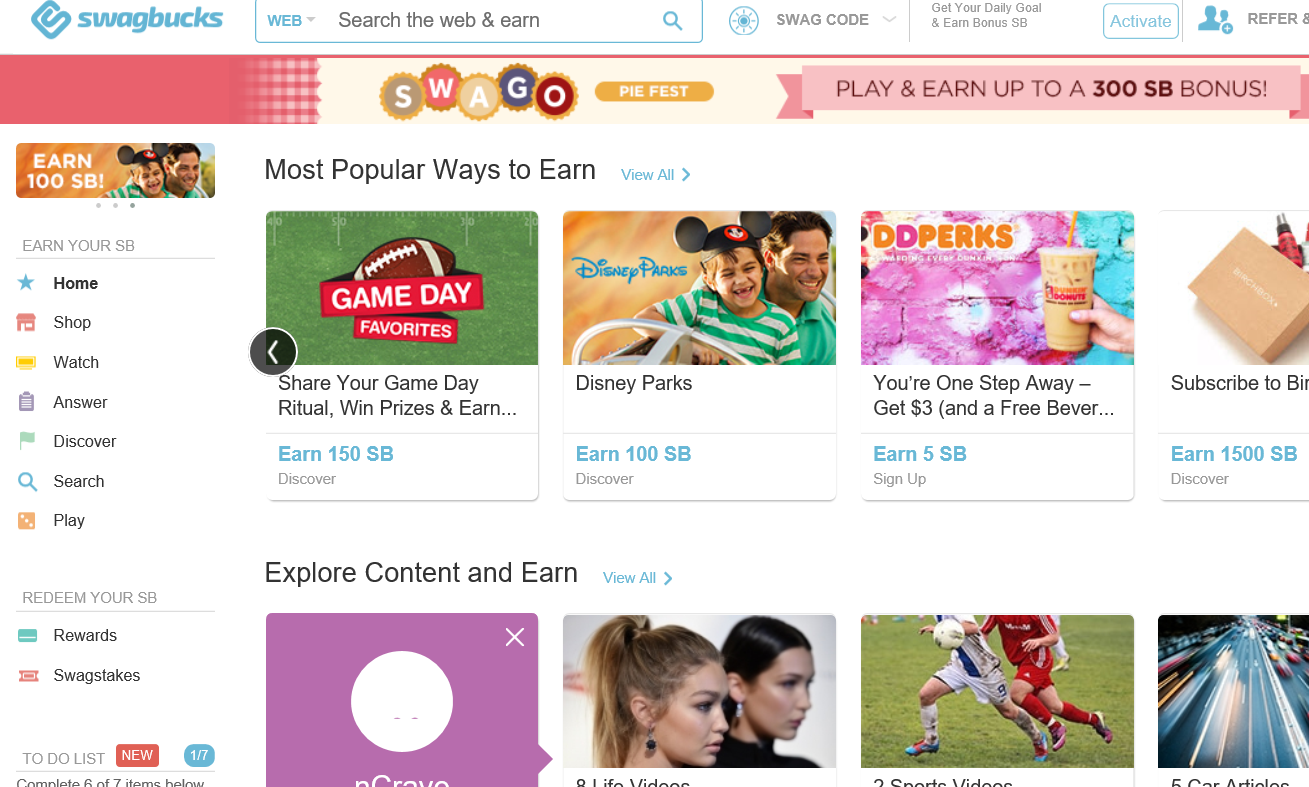 What is swagbucks?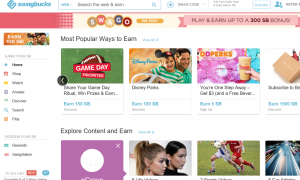 Swagbucks is a site where people earn money and/or gift cards by shopping on their favorite sites, watching videos, playing games, responding to surveys and more. You get free gift cards doing things online by earning points called SB. The swagbucks reward store has more than 140 brands of gift cards to choose from including Walmart, Amazon and PayPal.
How does Swagbucks work?
Swagbucks have many interesting ways for members to earn. On their home page they display opportunities under categories like 'most popular way to earn, explore content and earn, featured ways to earn, shop and earn, answer surveys and earn, discover special offers and earn, watch videos and earn and play games and earn'.
You can select from each category the specific thing you want to do. Each item tells you how many points you will earn doing it. If it is a video, game or survey, it will tell you how long it will take you to complete it on average, and how many SB points you are going to gain.
100 SB points is equivalent to $1. You need 300 SB points to redeem a gift card worth $ 3; so 100 SB point for each $ 1 as with cash. It takes about 11minutes to make 100 SB points on a survey. It takes about an hour of video time to earn 3 SB points.
You can earn up to 11 % cash back on purchases and 1 SB.
Pros
Membership is free
You make money doing things you already do
There are a ton of categories to choose from
You can convert your points in to your favorite gift card
There are forums for members to socialize
The swagbutton tool alerts members who  are enrolled about new earning opportunities
Cons
It takes an average of about 11 minutes to make a $1 which means in an hour, you will make just about $6 or less.
All the surveys that I took, lasted longer than the estimated time by at least 3 minutes (even on my fastest speed).
Since some surveys ask for personal information including your email address, this results in spamming.
You can be disqualified from a survey depending on your answers and loose all but 1 SB points of the promised amount.
My take on Swagbucks
With swagbucks, you can make money doing the things you already do which is great. However, if you are interested in making a subsistent income, this may not be the best option for you.
Someone looking to make money might prefer to take surveys since you do not have to spend money to make points but there are limited surveys and you can be disqualified from a survey. This will further reduce the number of surveys you can generate money from.
You can only spend so much online. Even with the cash rewards an all, you will hardly make enough for fulltime income. Swagbucks is for people who only need an extra hundred dollar a month or two to cover certain expenses.
People looking to make fulltime income online should try another method. My # 1 recommendation for online marketing might be what you need. It is free to enroll and there are tons of lessons provided to help you succeed in you endeavor.
Conclusion
Swagbucks is a legitimate online business where you can make money doing the things you already do. It is a great way for people to make an extra $ 100 to cover some expenses. It is however not a good source for fulltime income. If you are interested in generating fulltime income online, check out my # 1 recommendation for free.
Please leave a comment about your experience with swagbucks.
Cheers Denise