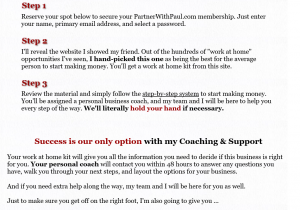 It has always been  my desire to work from home and spend more time with my kids. This desire grew stronger when I found out I was pregnant with my fourth baby. I went on to google and  searched for work at home jobs. Among the result that pop up was an ad about partnerwithpaul.com .
I did some research and this is what I put together,
Business website:  partnerwithpaul.com
Business type: Multi-level marketing (MLM)
Rating: 1 star out of 5
Recommendation: No
Paul claims on his site that he makes more money in a month than many people make in one year. He insist that he is not one of those bogus work at home schemes. He says he is not doing it because he wants a name for himself like some internet gurus but because if he doesn't, you and him both will lose out on the money.
On the main page of this site, Paul states that he will explain why he is ready to help a total stranger like you in clear terms and then reveal the website that will help you make money online. However, he will only do this after you have enrolled into his site by providing your name and email address.
He claims that any money he makes will not come out of your pocket but the more money you make, the more money he will make.
What is partner with Paul all about? 
After signing up with partner with Paul, you get their DVD kit, a step by step plan and a business coach. At this point, you still don't really know what you are partnering with because Paul doesn't come out clean till you have committed.
To get the partner with Paul DVD, you are charged shipping fee of $ 9.95 but you are not told that an additional fee of $ 30 will be charged monthly if you do not cancel within 20 days.
Many people who have been through this program say that the DVD is all infomercial about herbal life. Herbal life is a pyramid type business or multilevel marketing that deals with promoting and selling meal replacements and protein supplements.
My take on Partner with Paul
With a pyramidal type business like herbal life, the person on top of the pyramid makes a lot while those at the bottom work so hard but make very little.
Herbal life is a legitimate business but for Paul to conceal it until when you have committed is just wrong. Paul makes money referring people to herbal life in a very cunning way. People who go through PAUL TO JOIN THIS PROGRAM END UP SPENDING A LOT MORE THAN THOSE WHO JOIN DIRECTLY THROUGH HERBAL LIFE'S WEBSITE.
Another troubling thing with this business is the fact that Paul tried to make people think that they are accredited by the better business bureau (BBB) until in 2009 when BBB asked them to take down all of their logos.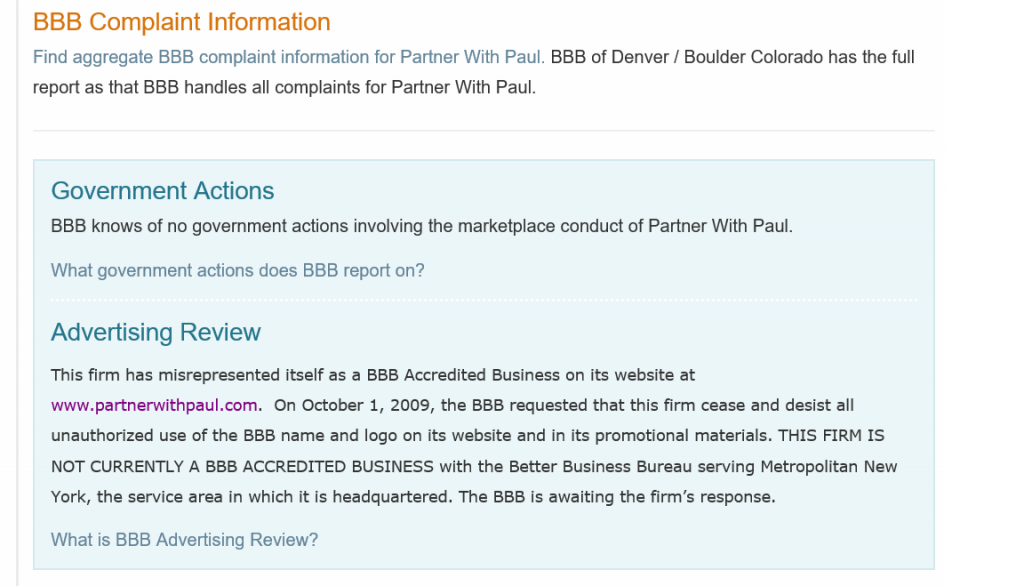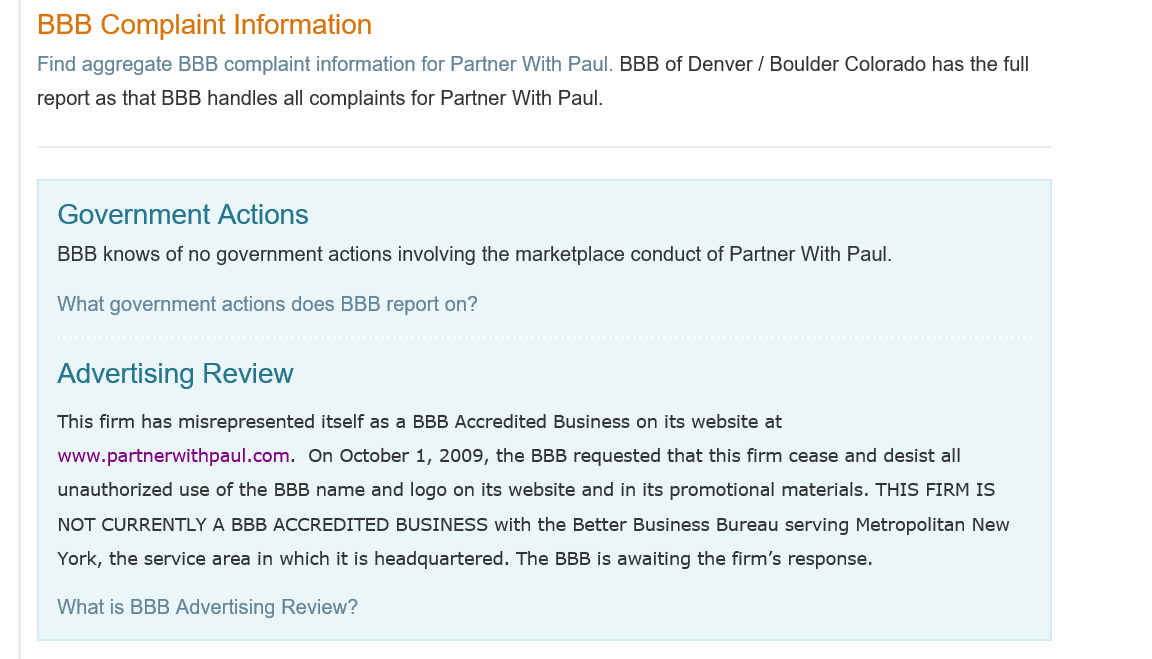 Conclusion
Partner with Paul is a scheme that makes you pay double or even triple for products own by others. They don't tell you up front that they are referring you to this product till you have committed yourself to their site.
In this case, partner with Paul refers you to herbal life which is a MLM business related to the health industry. In some instances, they refer other MLM business. People who are interested in MLM businesses can join for a fraction of the cost at partner with Paul.
There are other types of work at home businesses like affiliate marketing that can generate sustainable income for you. If you are interested in this type of online marketing, follow the link below to learn more for free;
# 1 recommendation for online business.
I will love to hear about your experiences with partner with Paul. Please leave a comment.
Cheers Denise!