Before I go deep into this review, I want to let you know about the program that is helping me make part time income online. I don't put much time into it so I only make about $3500 a month. That's good enough for me.
If you are interested, go to wealthy affiliate and learn how to make money legitimately online.  The starter membership is free and does not expire. You could end up making more or less than I do depending on how much work you are ready to put in to it.
Now back to MCA reviews
Many people have been trying to determine if motor club of America is a scam or not. There are many conflicting reviews about this site. I want to shed some light on this topic and hopefully by the end of this post, you will be able to decide.
One thing I want you to know is that, even if a business is not a scam, it does not mean it is worth joining. You need to make a smart decision depending on what you are looking for. I will give you as much information as I can.
What is motor club of America?
Motor club of America is a real company and can be found at http://www.motorclubamerica.org. It offers real services for its members. MCA is a motor club serving the United States, Canada, and Puerto Rico. MCA offers 24/7 emergency roadside assistance packages and discounts to members.
MCA has been around for more than 86 years and originated in Oklahoma. I won't go into all the details about the origin of MCA since you can easily find it on the about page on their website.
You can be a member of MCA and use their  services or you can be an affiliate and sell their services to others, or you can be both. MCA plans start at $ 9.95 a month and associates are paid on a weekly bases.
MCA does not offer insurance coverage. They are own by the vital connection (TVC). MCA offers unlimited road side assistance, pharmacy discounts, medical benefits and much more to their members depending on the member's monthly package. Their services are very similar to those offered by AAA.
Associates can make money referring clients to MCA; for every person an associate refers, they get a commission of $ 80 which is about 200% of what the recruit will pay ($ 40) to join the club.
Is Motor club of America legit?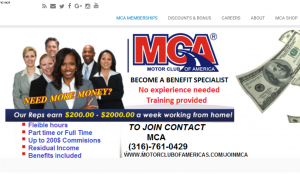 MCA is a legitimate business but for some reason, many people think it is a scam. So, why do so many people think MCA is a scam? There are many reasons and the most important of them is the fact that, most of it's associates give the company a poor representation. These associates don't tell the truth to the people they recruit. Some go a far as lying and sugar coating the benefits of MCA to get people to join.
MCA does not offer car insurance but many associates make recruits think they will get insurance coverage if they join. Some recruits go as far as making people think that they can be hired by MCA and will be paid a lot. Others tell people they make about $ 5000 a week while it is clearly stated on the site that associates makes between $200 and $ 2000 a week.
The truth is, most of the associates of MCA make less than $ 1000 a month. All the above misleading claims are the reasons MCA has such a bad reputation.
Is MCA a pyramid scheme?
Many people think MCA is a pyramid scheme because some associates make claims like "I grow $ 40 into $ 2000 in a week". This give people the wrong idea. The truth is, to make $ 2000 in a week, you need to recruit 25 people which is very hard. You will need to use very aggressive marketing techniques to realize this.
My take on MCA
I think MCA is a great company with great benefits for it's members. I however do not like how liberal the company is with the implementation of it's compliance policy. They let associates say what ever they like in order to recruit people and do nothing what so ever to penalize them for misrepresenting the company. This makes me think that MCA only cares about recruiting people even if it cost them their reputation.
I am also concerned with their 200% commission policy. It doesn't make sense to me. I am no economist but I think a policy like that will eventually bankrupt the company, especially as associates are not expected to be members.
Finally, how can you sell something to someone an tell them how great it is when you haven't used it yourself? If associates do not have to be members to market MCA, how then can MCA be sure these associates are selling the product because they believe in it? An associate can misrepresent the company simply because they have no allegiance and are only there to make money.
Conclusion
I have been looking at MCA as a way to make money online for sometime now. After doing a lot of investigations, I found out that MCA has very great benefits for its members. I also leaned that less than 2% of the associates make up to $ 1000 a month. So most of the ads about making $ 5000 a week are exaggerated.
Even though MCA is a legitimate business, It is not my kind of online work from home business. I currently run a successful online business that provides me passive income. This income helps cover some expenses and I can stay home with the kids more. It does take hard work to get where I am now.
If you are  looking for an alternate way to make money online, you can check out my # 1 recommendation / guide to online marketing. It is free to enroll and contains enough lessons and tutorials to help you build your own successful online business.
Please leave us a comment and if you found this post helpful, don't forget to like or share it.
Cheers Denise