Name: Vibrant Cash System
Website: http://vibrantcashsystem.com
Owner: Julie McDaniels
Price: $9.95 + hidden upsells
Rating: 5/100
According to Julie McDaniels, vibrant Cash System is a great way to earn unlimited cash right from  the comfort of your home. With this system she says, you can even stop your usual 9-5 work system with a boss who can kick you out at any time and use her home cash kit.
The word work kit is one to take note of as many make money programs that use this system to promise you sudden riches are usually scams.
What is Vibrant Cash System?
Vibrant Cash system also know as 3k payday system by Julie McDaniels is some sort of binary trading system software with supposedly detailed steps of operation. It creates an avenue for you to earn from home without running into trouble, such as running into traffic or constantly offending the boss.
You can easily access the kit via your Internet-connected laptop, desktop or smartphones. She says it has an excellent user-friendly interface which allows you to earn a tangible amount of money; up to 3000 a week.
This program is supposed to have immense benefits embedded within it that will allow you to easily navigate through shares in order to claim good offers. It is a platform that is supposed to allows you to work from anywhere without any special requirement. All you need is to follow the simple steps and enjoy the enormous improvement to the cash in your bank.
How does it work?
While you are eager to know what the program is all about and how to make enormous money from it, you must also be poised to know how the system works.


The thing is, it does not work at all. They don't tell exactly how it works. The whole page is filled with fake testimonials and stories of how people made so much money with it. The stories are very unrealistic and goes on for so long without any actually explanation of what you will be doing to make money.
The bit I have given you above as to what this program is, I have acquired after doing a lot of digging and still it is pretty vague.
All they tell you is that, before you start, it is essential that you get a personal laptop with a considerable fast internet connection. This is due to the fact that most of the work will be done online.
They do a good job of telling you what you won't be doing and this resonates well with many because these are the exact reasons they are online looking for work from home jobs in the first place.
They say things like;
No selling
No advertising
No media buying
No recruiting
No blogging
No forum posting
No article writing, spinning or submitting
That sounds nice and dandy but my question is, what will I be doing to make money then? The answer they give you is squat. They spend a lot of time showing you bank statements you have no way of verifying, like the one below,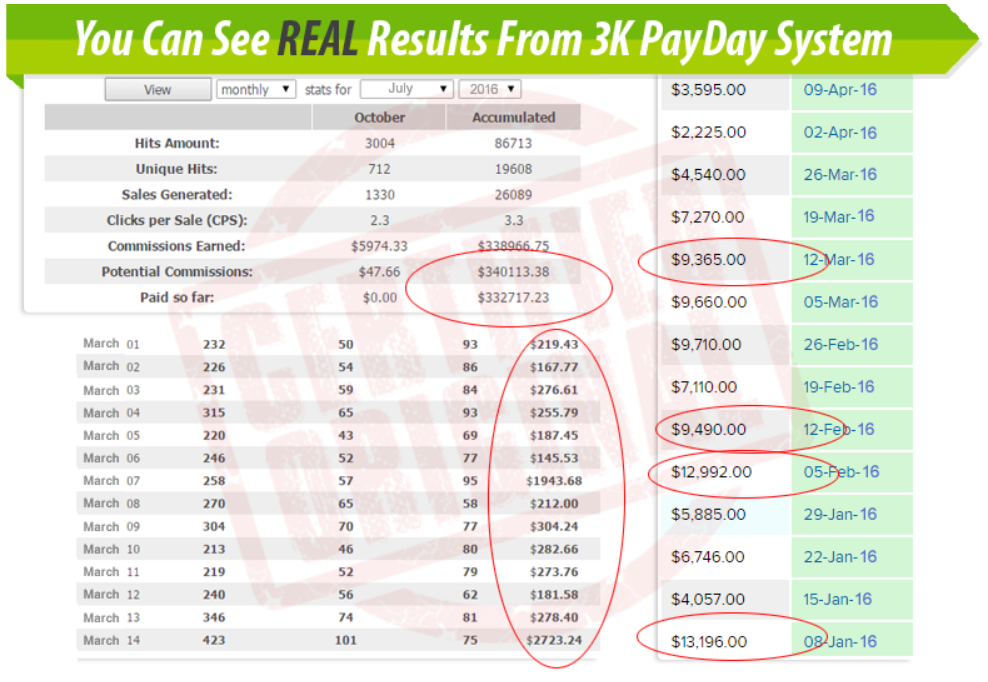 The figures in the statement above will entice even the most reasonable of people, especially when they are desperate to make money. They know how to feed off desperation and they make sure to rush you and tell you that time and positions are limited.
Eligibility
Everyone is eligible to join this program as long as you have money to spend in it. They don't have a free trial. They however ask for $9.95 to join. This is  a small amount but then the up sells come after.
Once you join, they keep asking you to pay more to get complete access. They charge $9.95 to check if your credit card is legit. If you fail to cancel your membership at the end of the 5th day, you will be charged $29.95 every month till you stop them.
Is Vibrant cash system Legit?
Vibrant cash system is a scam in my opinion. It is just like all the other cash systems online that promise you overnight riches without actually telling you what it takes to make the money.
They lure people in with low start rates then they charge you monthly for nothing. They show fake bank statements and fake testimonials with images obtain from stock images online.
They claim that they have been feature on CNN, NBC, USA  today but a search about them on any of these sites pulls up empty. It is like they don't exist and this only tells me one thing; Vibrant cash system is a fast money scheme.
I hope this review was helpful. If you want to learn how to make money online from a legitimate program, try wealthy affiliate for free. You can keep your starter membership for as long as you want and get to know the program before deciding to join.
Cheers Denise.