Program: Legit flex job academy, a copy and paste scheme
Website: legitflexjobacademy.com
Owner: Unknown
Price: $37 or less depending on what stage you join
PS: legit Flex job has changed some what since I reviewed it in 2017. Now they ask you to pay $5 for each worksheet you mail and submit to them. They say they will pay you back this money in your check but I have received many complaints from people who have joined stating that they never got paid.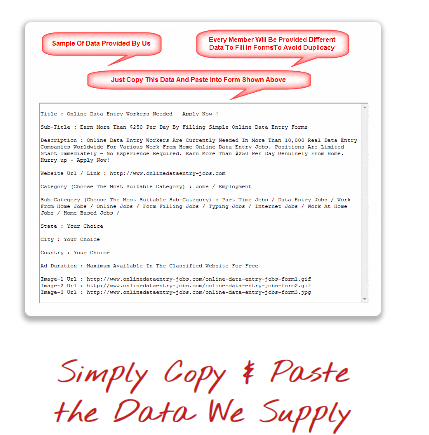 As shown in the image above, Legit flex job is a  copy and paste scheme (I will explain this further in the review).This program claims that they will help you make about $371.25 a week working part-time from home. They explain that you will do this by becoming a worksheet processor.
I decided to check out the job tittle worksheet processor and found very little convincing evidence that it is a real job. In fact, I had a hard time finding one with a legitimate company.
Anyway, legit flex job claims that you will enjoy this simple job because they will give you a startup kit with simple instructions. The kit they say will teach you how to process worksheets for companies.
Ok, the word startup kit is a problematic word in the online world because major online scams use this tactic to lure people into their program. So this is a big red flag for this program.
They do not say what kind of qualifications are needed to get the job. I expect companies will want you to have at least a certain kind of experience before letting you even see their worksheets (if they exist).
Any real job requires some qualifications even if they are basic; except of course this is not a job. It will explain why they want you to pay before you get it. By the way, if you want to learn how to make money online, click here to create your account for free.
If Legit flex job academy is anything like many legitimate jobs out there, there should be a job description that list out the dos and don't of the job; but there are no such documents.
According to legit flex jobs academy, to make money you need to complete these worksheets and submit it to them and you can complete as many worksheets as you like. You can work where ever and whenever you want.
I know making $371.25 a week is very reasonable and working at your own time from home is very appealing. However, I  don't feel good about this program.
They claim that they have generated such a large demand that they need people like you to work for them.
Yet when I try to investigate about them, I see no such vibe on the internet about them. If they are such a big deal as they say, it will be easy to find independent testimonials about them; yet it's not.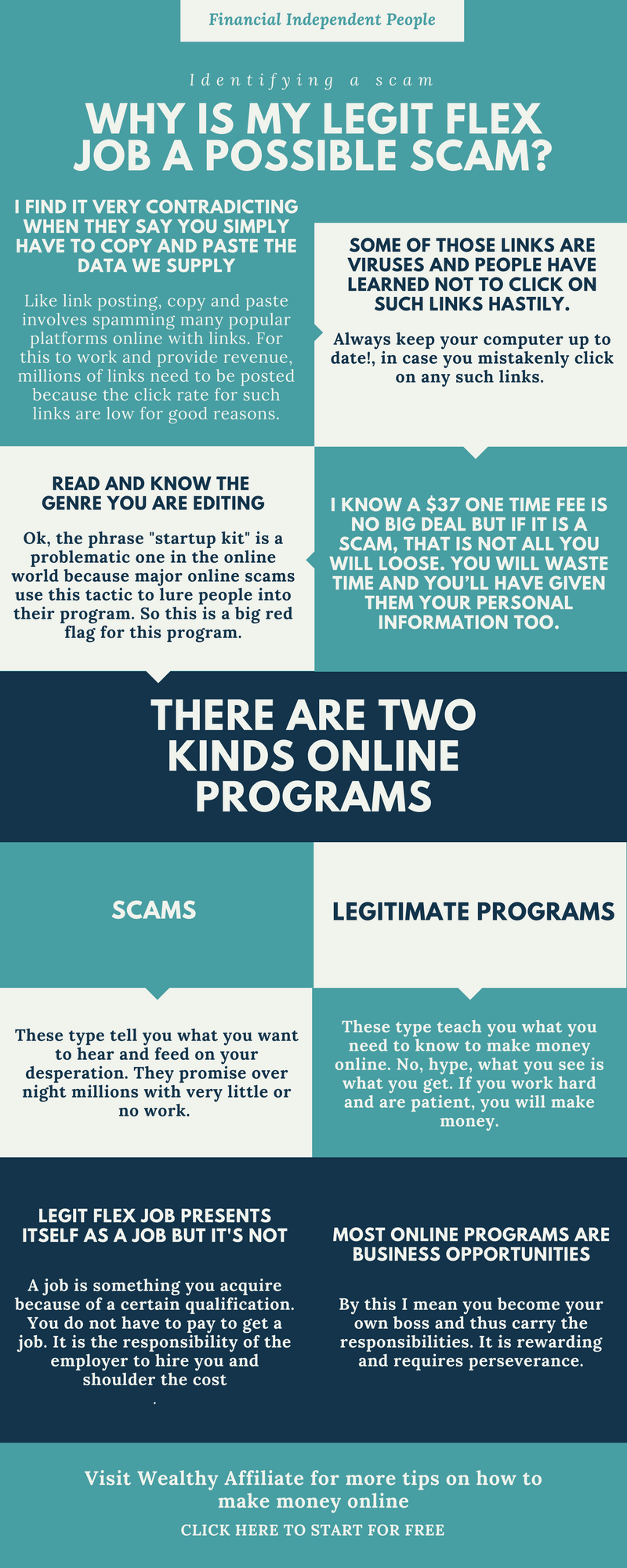 I find it very contradicting when they say you simply have to copy and paste the data we supply. Now which one is it?; worksheet processing or a copy and paste scheme. If it is a copy and paste scheme, then it is the dirtiest scam technique in the books.
Like link posting, copy and paste involves spamming many popular platforms online with links. For this to work and provide revenue, millions of links need to be posted because the click rate for such links are low for good reasons.
Some of those links are viruses and people have learned not to click on such links hastily. Some of the link take you to scam sites where you are told fabulous stories and scammed senseless.
So, if legit flex job is using you to copy and paste, there is a good chance that they are a scam.
I like it when a businesses has a face and name to it. Even though some sketchy businesses use fake names and faces, there should at least be one. Legit flex job makes no mention of an owner and I don't like it.
I can't say outright whether it is a scam or not but it does smell fishy to me. Especially when I got this sudden bonus when I tried to leave. A pop up alerted me to the bonus and it claimed that I could now pay just $27 instead of $37 to become a member.
I know a $37 one time fee is no big deal but if it is a scam, that is not all you will loose. You will waste time and you'll have given them your personal information too.
Anyway, they keep emphasizing about how this is a unique opportunity and it is important to act fast or lose your spot. I don't like it when online businesses try to pressure people that way. It doesn't help that they don't have a free trial period for people to test drive the program.
If I were you, I won't give them my credit card number because I don't believe in their money back guarantee. If they are so sure their program is that great, they should at least let people test drive it, even if it is just for a day.
There are programs on the web like wealthy affiliate and Affilorama that teaches people tons of ways to make money online and they let people test drive their program for as long as they want. 
I learned how to make money online with them and today I am proud to call myself an online entrepreneur thanks to them.
It's a win win for the program and you when they offer a free trial because you get to see the benefits of what they are offering without feeling pressured to pay right away.
On the other hand, if you are looking for a traditional work from home job, where you will be paid for doing something, click here for a list of the top 100 legit work from home jobs. 
Bottom line
Legit flex job academy maybe legit or a scam; I am not sure which one it is but I am leaning more towards scam.
A job like any other should be acquired for free. It is the responsibility of employers to shoulder the cost of hiring someone to work for them.
If you have to pay to work then better do it at a place where you can learn to work for yourself.
I hope you found this review helpful.
Cheers Denise.
PS
Some visitors to this post have suggested that you can get your money back via clickbank if you don't like the legit flex job academy program.