It is easy nowadays to build a website for free. There are tones of software that will do it in seconds.
In the past, you needed some knowledge of coding to build a website.
It took months to study and set up a website.
Today, things have been made supper easy! With just a few clicks and you have your own very websitesite.
There are many tools available; among these tools is Wealthy affiliate'e siterubix website builder.
This siterubix software does not only build you a website fast, it also does it for free.
You will have accesses to a variety of themes to choose from and personalize your website.
Wealthy affiliate makes it possible for their free members to build a website and start business using siterubix.
You will need to enroll in the starter membership with Wealthy Affiliate and it will cost you $ 0.
To enroll, follow the link below or click on the link below.
After enrolling, feel free to start the lessons meant for beginners/free members.
These lessons will help you understand the steps necessary for starting and sustaining a business online and with it will be an in-depth explanation of the steps you need to follow to build and customize your free website.
If you don't want to go through the lessons and want to go straight to building your site, click on the free website link above to begin.
This should take you to the site builder platform. 
On this site builder platform, the first step is to choose the build a free site tab.
You will be asked to choose a domain name that will end with siterubix.com.
A domain name is the first part of the address for your website. For example, in the web address fiverr.com, the domain name is Fiverr.
Many domain names end with .com, .org, .net, .edu (there also many exotic extensions for domain names).
These ones are they type you buy for between $8-$10 a year while the free one has the siterubix.com extension to it.
You can transfer this free domain to a paid domain at anytime you are ready to take your business to the next level.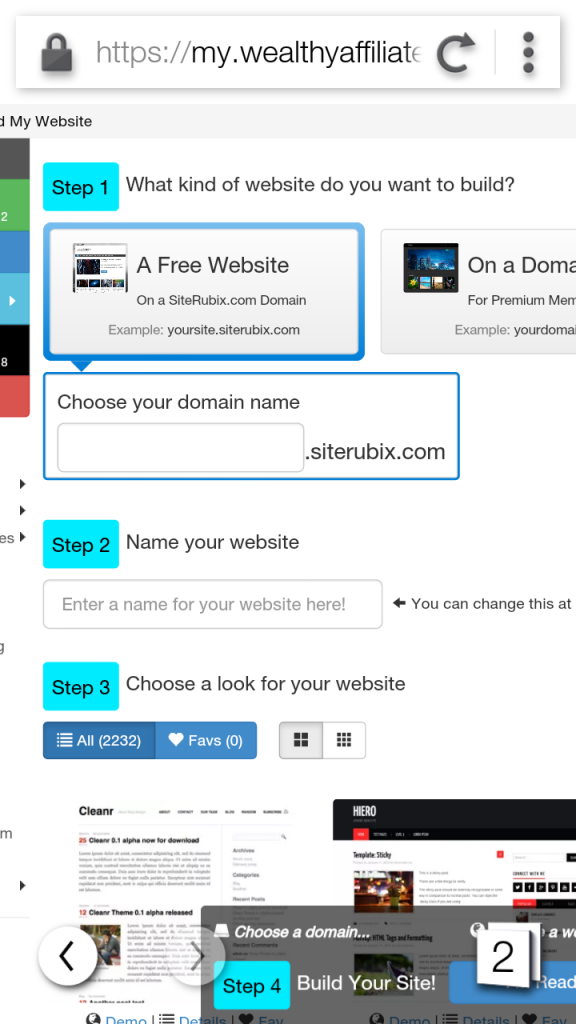 Note (there has been some changes to the Wealthy affiliate website lately. So the page above might look different now).
After choosing a domain name, you will also need a name for your site (step 2). Many people have the same name for their domain and site name.
The next step is to choose a theme (look, appearance) for your site. This theme is what will make your site unique.
There are many themes to choose from. You can tweak until you get a unique personalized website.
Once you have a domain name, site name and theme for your site, click on build my site (step 4) and within minutes you will have a site all your own.
Congratulations on this achievement. You can get your business on the roll now.
Thank you for reading. Please leave a comment and do share this post with friends and family.
Cheers Denise.