The computer workplace program is yet another program that promises members quick money online.
This one like many others claims that you can make plenty of money by just spending 60 minutes a day on your computer posting links.
By doing so, they say you will get to make enough to allow you to spend more time with your family and friends.
I won't waste your time anymore than it has already been wasted by this program. This program in my opinion is a scam and I will explain below. 
Main features of the computer workplace program
They claim that you do not need experience, skill or education to make money with their system
They say you can start immediately
They say they are the #1 choice for success online
You can be your own boss
They claim to have been featured on CNN, NBC, ABC, USA today and FOX news
They say spots are limited so you have to act fast
Red flags
Lies about their relationship with the media
This program has a lot of red flags. First off, the claim, that they have been featured on TV networks like CNN is a lie.
I have gone online and tried hard and long but could not find any information to support this claim. For a program that claims to be so popular, it should not be hard to find inform to justify their claim.
They claim at some point that demand for work from home workers is huge. Then they turn around and tell you that spots are limited and you have to act fast. This is very contradictory.
Use of fake names for owners and testimonials
The computer workplace program uses fake names and photos for it's owner and testimonials. They claim that this is done for privacy reason but I beg to differ. Only people with ulterior motives will do such a thing.
It is funny how the same face is named by Linda Miller in the computer colleagues program just for them to turn around and call that same person Ellen Martin in this program as shown by the images below.
Similar to many popular online scams 
To make matters worst, they use this same images and names on more than a dozen of their programs. Many of these programs have names that start with "computer".
For example, below are three images, one is for the computer everyday program and the other two are for the computer colleagues program and the computer journey program.
Look close and you will see that these programs are clones of each other. Each of these programs has it's own website. If you have not been online as long as I have been, you won't know this.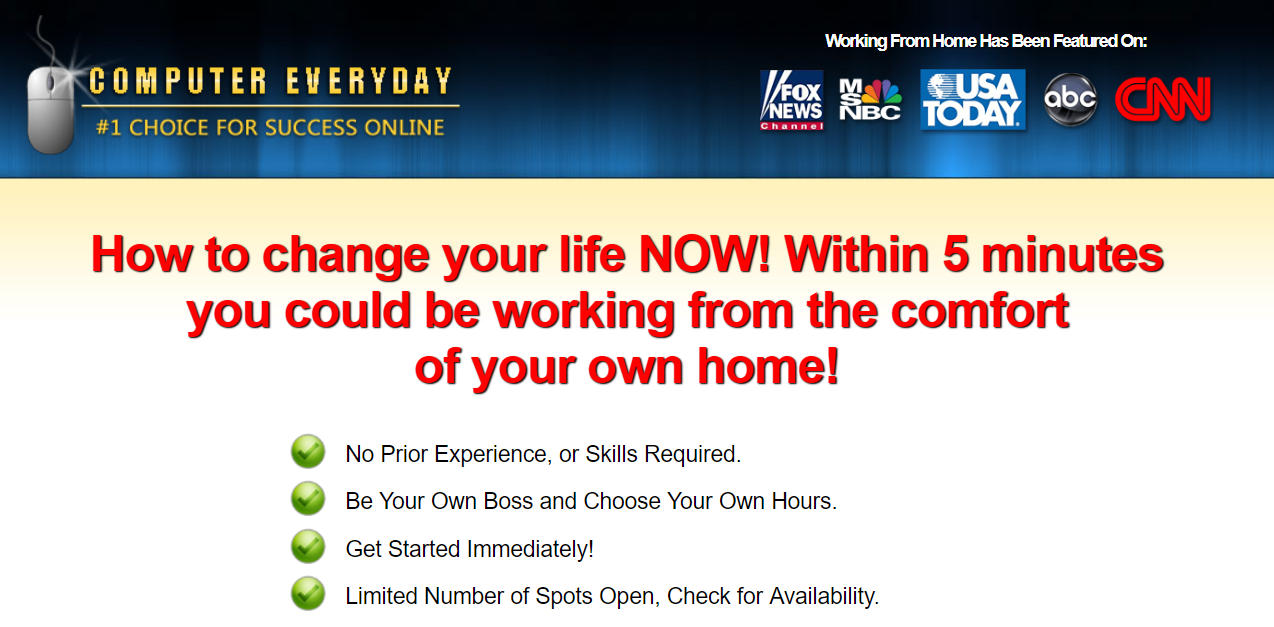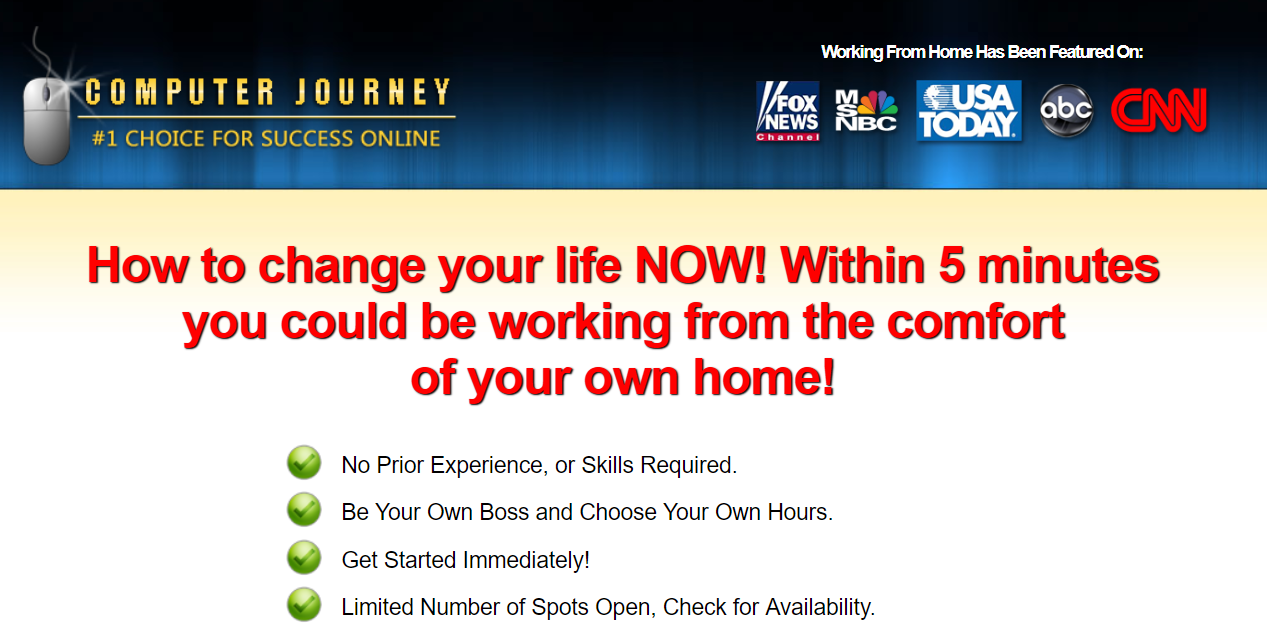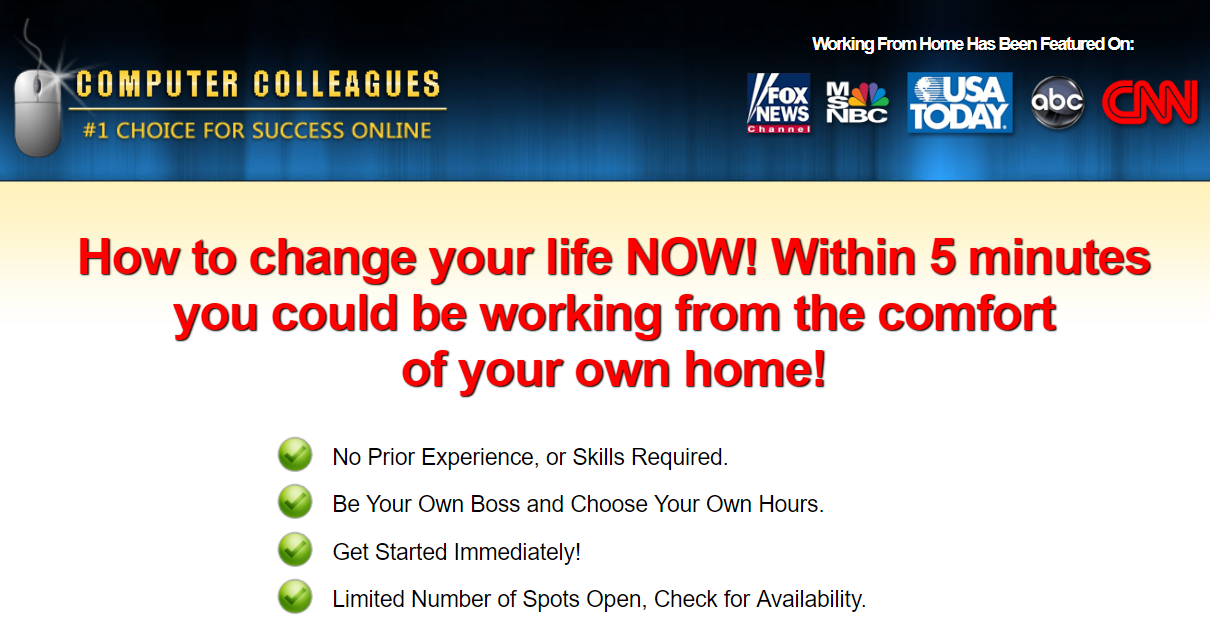 Repeated pop ups with repeated discounts 
Another red flag for this program is how you get repeated pop up notices telling you to stay and get a discount. Where in the world, have you seen a legit company do this.
This shows how desperate these people want your money and personal information. Just the other day, one of my readers complain about one of their programs.
He had joint it thinking that it was legit. He was supposed to get access to the program after he paid his $97 but this did not happen.
Instead, he was told to pay more money to get complete access. By the time he realized it, he had paid two more fees to these scammers.
When he tried to get his money back, there was no such option available. Mind you that they have all there notices on their site saying the program is 100% iron clad money back guaranteed.
What does the computer workplace program claim to teach?
This program claims that many big companies like Walmart are desperate for people like you to post links for them. They even have a nice calculator that estimates that, you will make $15 to post one link.
It will take you less that 15 minutes to post a link. Technically, this means you can post 4 links in an hour for $60. Now think, why will Walmart pay you to do this when you have no skills and education.
I mean, they said no skills and education was needed. This makes no sense. Won't it be better for Walmart to pay someone minimum wage to do this for them?
This alone tells you that this program is a scam and there are no companies despairing for people to post links for them.
Link posting, the way these people say it, is just like spamming. No one likes spamming.
Bottom line
What attracted you to the computer workplace program? What exactly were you looking for, a job or a business opportunity.
A job is offered by an employer who shoulders the burden of employment. To get a job, you apply for it, wait to be called for an interview and if you are hired, you will get paid for providing a service.
There are many jobs you can do remotely from home. Flexjobs.com is a good place to go to find legitimate work from home jobs.
If you went online looking for a business opportunity and found this program, run away as fast as you can. You will learn nothing from them.
You will be better off joining a program like Wealthy affiliate that offers task oriented lessons about online marketing. They have a free starter membership that does not expire.
With their starter membership, you will get 10 free lessons. After this, if you want more, you can join the premium member ship for $49 a month or about $30 a month if you pay for the whole year.
Better still, you can upgrade during the black Friday period for about $25 a month, paid in full for a year. Click here to join Wealthy affiliate for free.