Six Figure MASTERMIND Review
The real challenge to those who want to make income online are endless; there are so many program to choose from. The internet is inundated with scams which adds to this difficulty. It takes time to pick the good from the bad.
Today I will be writing a review of Six Figure Mastermind by Mark Thompson and Ricky Mataka. My goal is to help you determine whether this program is a scam or not. So, please read to the end.
What is Six Figure Mastermind?
Six Figure Mastermind is a program that promises to teach members how to select products for business and how to carry out affiliate marketing. According to Mark Thompson, this is a onetime step by step twelve weeks program that include webinars and follow ups. This program is supposed to guide members towards generating 6 figure income online in as little as three months.
This program was launched on Clickbank on July 26 2012 and the owner claims it has helped some of its members make six figure incomes with their business. This is the reason why many people are enticed into trying this program.
It was however started clearly on the clickbank website that it was not a get rich product. Check the image below to see the clickbank ad.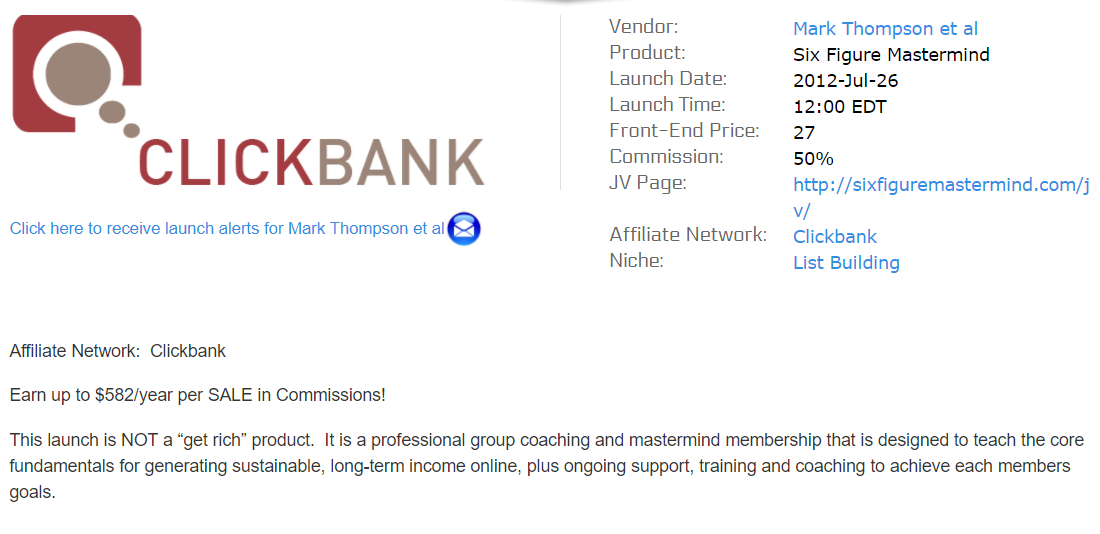 What should you expect from Six Figure Mastermind?
The six figure mastermind coaching program is a comprehensive step by step program. According to the owner, this is some sort of a mentor-ship program. Mark Thompson explains that mentors are very important for anyone looking to start a business.
He explains that he only started seeing success in his business after he found a mentor; someone experienced in his field to guide him. Mentors are important because they help minimize mistakes and maximize success.
Mentors can also help you make relationships with the right people and help you acquire resources you would not have on your own.
Basically, you get a twelve weeks training on affiliate marketing and niche/product picking when you join this program. It is nothing break through really. This information you can gather online for free.
You will be part of a forum and have access to private blog and Q&A.  Topics in the twelve week training are as follows;
Business model, planning and mindset – week one
Conducting research – weeks 2 and 3
Copywriting –week 4
Joint Venture relationships and promotion- week 5
Email marketing – week 6
Traffic generation –week 7
Marketplaces- week 8
Building funnels- week 9
Outsourcing – week 10
Conversion- week 11
Revision week 12
Each week is covered with five to seven videos and webinars too.
Is six figure mastermind worth the price tag?
It depends on whether the membership ends at the end of twelve weeks or continues. If the fee is charged for the twelve months it takes to cover the program, then I think it is not bad as there are things a beginner can learn from these videos.
However, if the billing continue after these twelve weeks period then it is not worth it because there is little or more they are going to teach you from there on. As a marketer, you don't only need to learn how to run a successful business, you actually have to put all the knowledge into practice.
In order to do this, you need to build a website where you will run your business from. When they teach topics like drawing traffic, conversion and leads, you should understand that all of these only apply if you have a website.
People will try to tell you otherwise but I won't hold back the truth; in order to become an authority in your niche, you will need to design a platform where your customers can interact with you. That platform is your website and it will cost you some money to set up.
If you consider the cost of the training and the cost of buying and hosting a website, plus setting up email marketing, you could end up paying close to a $100 price tag.
There are places that will teach you all the topics from six figure mastermind, provide you with private coaching, help build your website and host it for less than $50 a month.
So, in my opinion, six figure mastermind is ok for the twelve weeks and not any longer.
Pros
$27 a month is not bad
Good trainings on affiliate marketing and other tools which make it easy for all to begin their online businesses. Good for begginers
Cons
You will be forced to upgrade your membership from basic to elite in order to have complete access to the entire system. This inner membership is $97 a month and it allows you access to the inner circle.
Final Thoughts
With Six Figure Mastermind, you will learn the basics on online marketing in twelve weeks. Even though there is hype about people making six figures a month, do not expect that to happen to you; it is unrealistic.
Online marketing is a continues learning process so you need to find a place that will constantly update their lessons to keep up with changing trends in online marketing.
Try my #1 recommendation for free and learn how to set up a successful business online
Cheers Denise