I have seen so many make money systems online lately that it feels like the apocalypse is approaching. More than half of these websites promise you over night money in millions to be exact. One of these websites is massiveonlinepaydays.com.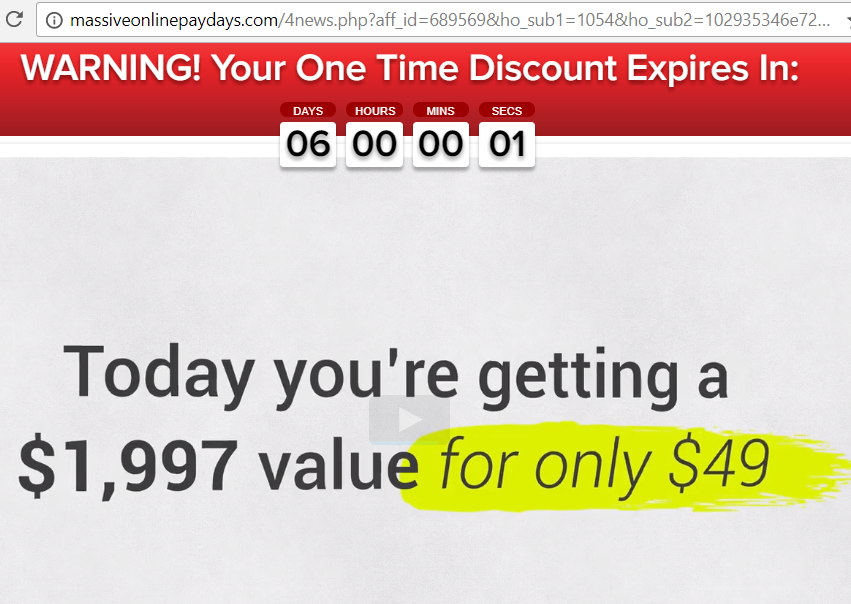 Today, I will be writing a review of massive online paydays to help you determine whether the program is legit or a scam.
I will give you a thorough review and then my opinion about the program towards the end. So, to get the complete picture, please read to the end.
What is massive online paydays?
Massive online paydays is an online program that promises to show people the surefire way to make millions online in a very short time.
The introductory video on their home page starts by congratulating you and telling you that you have been selected out of thousands to own a millionaire website that has been pre-designed for you by the author of the video.
According to author (name unknown), he is so confident that you will make money with his program that he is going to bet $500 on your success.


He is very convincing especially as he shows pictures of luxury homes, lavish vacations and luxury cars and say you will be able to afford that and more after you try his program.
The video goes on for a while and the main discussion is about the money you will make and how important it is for you to start without delay. You are urge to stay on the page by the author in order to secure your spot which according to him is limited.
He goes further in the video to say that his program is a 3 step program that you can master in about a week or less. Then there are a series of testimonials from people claiming that the program has helped them make thousands of dollars in a short period of time.
One of the people even mentions that she makes the money sending emails only.
As the video continues, he explains that you will be dealing with real ethical products that will generate you commission of between $1000 and $10,000 when sold.
So basically, you are going to be given a mentor, a millionaire website with products that you will be able to sell everyday and generate huge commissions for a one time fee of $49.
My take on the massive online paydays program
I believe that it is better to err on the side of caution than become a victim of scam. There are many aspects of the massive online paydays program that raises alarm bells.
The very first one is the idea that you will get a completely built millionaire website plus a mentor for just $49. I know we all want to believe in fairy tales but this one is too good to be true.
If this website is really a millionaire website then it will be wiser for the owner to keep it, instead of giving it to you for $49.
It is sweet how he talks about caring for you so much that he will give you so much for so little. I am not saying that goodwill is a bad thing but if he wants to be kind, he should give the website off as a gift for free.

The idea that you will learn in about one week the secrets to making millions online is very appealing but this is also another "too good to be true situation".
I don't deny that there are millionaires out there but if you ask any genuine millionaire, they will tell you a tale of late nights and 7 day work weeks.
Some people become millionaires over night either because they won the lottery or came to some inheritance but not from learning a secret to millions in a week.
Lets say for example that he in fact gives you a website and lets you work and draw traffic to it then what? I have heard complains about companies with similar business ideas taking such websites back from the person they gave it to and selling it for profit after it starts generating income.
This is so because such a website is owned by them not you so they can do with it as they please at any time especially as they say they will be handling all the technical aspects of the program. A money making affiliate website can sell for thousands of dollars.
So you will put in your money and time and then loose everything immediately the website is ripe for sale.
I don't buy anything said in the massive online paydays program. I don't see how a sales team, a mentor and a website is worth $49. There is something they are not telling us.
There is no exact recipe to make money and they are not ever going to stop recruiting people. After all he wants to make 10 million next year so he needs your money and effort.
Bottom line
I have been watching the massive online paydays program for a while now and the story have been the same. They claim they will stop recruiting once they get $500 partners but I don't think that is true.
They have been saying there are only a few spots left for all the time I have been watching them. Either they are recruiting no one or they are not true to their word.
They use a lot of hype and trick you with shiny things to make you commit. I will not recommended massive income paydays to anyone. If you want to learn how to make money online, check out my #1 recommendation. It is free to join.
I hope this review was helpful.
Cheers Denise