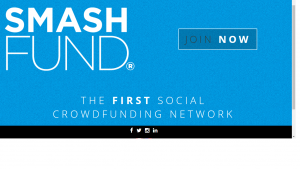 Company: smashfund
Company type: Crowd funding, affiliate marketing and MLM
Level of experience required: None
Cost: $ 149
Recommendation: Not quite
What is Smashfund ?
Smashfund according to founders, is an innovative crowdfunding platform that have combined the technique of crowd funding , MLM and affiliate marketing to create what they call the first social crowdfunding network.
Smashfund is an invite only social crowdfunding network which help fund the passions of their users. It is a very new platform that went life in July 2016.
So basically, if you are a member of smashfund and have a passion that needs sponsoring, you can get support from those in your network (thus the name crowd funding).
However, those in your network are people you have invited. Each member has a unique code they give to people they invite. Smashfund uses these codes to track who belongs to which network.
Smashfund has a reoccurring $ 149 monthly fee and they say it is this high because there are no hidden fees.
How does it work?
Lets say you want to start a business and need startup money which you don't have. If you are a member of a crowdfunding platform, you can raise this money by presenting your project and asking for help funding it.
The funding you get is money contributed by many people (a crowd) to help you achieve your dream.
In the case of smashfund, the people who contribute to your project are mostly those in your circle (most of the time, friends and family are the first to contribute. This can then encourage others to contribute too).
How much you get is dependent on your social thumbprint. The bigger your social network, the better for you. There are no limits to how much you can raise with smashfund.
Pros
Smashfund unlike other crowdshare platforms, does not place a limit on the amount of money a person can generate for a project. The bigger your community, the better the likely hood of meeting your fund raising goals.
Smashfund claims that, they will share 80% of their revenue with users.
Unlike other crowd funding platforms that collect a certain percentage from contributors, smashfund do not ( credit card transaction fees may apply).
Many crowdfunding platforms will increase your fee if you do not achieve your goals but smashfund will not.
You do not have to make an annual commitment to be a member
Funds are deposited weekly into your account
You have the freedom to change your projects and passion without worrying about extra fees.
Non profit organizations are welcome into smashfund.
You do not have to commit to a set period of time
You do not have to meet a certain percentage of your funding goal to be paid.
There are no hidden cost. There is a flat monthly fee
Cons
You can keep your backers and connections in place from project to project. This means you can change your project but still keep the pledges of your backers. I think these backers will feel cheated with such an arrangement.
Smashfund is like a multilevel marketing company partnered with crowdfunding and affiliate marketing. They issue an invitation code to members which they should use when inviting people to their platform. This is the traditional technique of most if not all MLM businesses.
There are other crowdfunding platforms like the famous Kickstarter that allow people to join for free. The price tag of $ 149 a month is kind of high.
You are not required to have a goal to start a fund raising campaign. This is unrealistic because crowdfunding is meant to fund projects and thus without a project, what will the fund raiser be for?
I will not be sincere if I didn't point it all out to you. All the pros listed above are those stated on their site.
Since smashfund just went live, we are still to learn more about it. So I have no way of telling you for certain that they are going to fulfill their promises.
That said, depending on what you want, smashfund may be for you or not HOWEVER, i will not give my information (especially credit card information) to anyone without doing my research.
If you are interested in affiliate marketing, my # 1 recommendation may be helpful. You can check it out and if you don't like, no problem.
Please let us know if you have any experience whether good or bad with smashfund. This is a very new platform and any information you have will be very helpful to others.
Cheers Denise